How do I Choose the Best Hiking Trails?
Choosing the best hiking trails is not a difficult task, but it requires you to know both your physical limitations and the terrain on which you plan to hike. Many people mistakenly believe that all hiking is an easy, low-impact activity; while some day hikes on easy trails can be easy, the majority of hiking trails will provide some level of difficulty and require a certain level of physical fitness. To choose hiking trails that are right for you, decide what your physical fitness level is, how long you want to hike, and how much exertion you are willing to commit to the hike.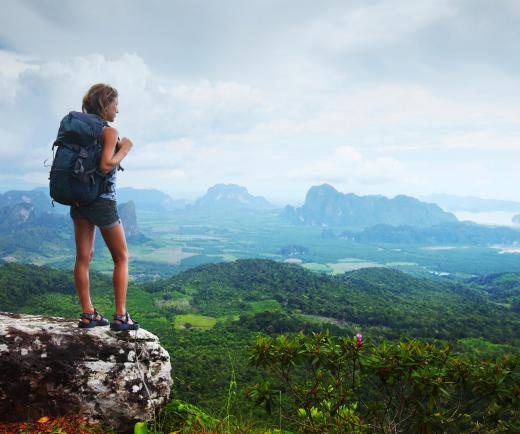 Consulting a map is the first step in choosing hiking trails that are right from you. If you are unsure as to how to read a topographical map that shows the contours of the land and therefore reveals how strenuous the hike will be, consult an experienced hiker, or someone at an outdoor sporting goods store who might be able to help you. The length of the trail will have an impact on how strenuous the hike will be, but keep in mind that even short trails can be quite difficult if they are steep, if they cover difficult terrain, or if they require you to cross obstacles such as rivers or streams. It is best to talk to someone who has hiked the trail before to get a good understanding of what the experience will be like.
If you are new to hiking, try going on an easy hike to test out your physical endurance as well as the equipment you will be using when hiking trails. This will allow you to see what gear works and what gear doesn't work, it will allow you to break in new hiking shoes, and it will give you a better understanding of what kind of physical shape you are in. For your next hike, choose a slightly longer trail, or one that features more challenges such as elevation gain or rocky terrain. If you are feeling confident and want to choose a longer hike, try to choose one that will take you to scenic overlooks or isolated wilderness spots where you can enjoy nature.
Some hiking trails will require an experienced guide. If you are considering doing a hike on such terrain, be sure to research the different guiding agencies available and choose one that features guides with plenty of experience in the area as well as first aid and wilderness responder training. Guides usually only offer services on exceptionally difficult terrain or terrain on which several hazards exist, so be sure you are ready for the physical demands of such a hike.


By: Sergey

A hiking backpack.

By: Dudarev Mikhail

The continental U.S. has several smaller mountain ranges, such as the Ozarks, that are accessible to novice hikers.

By: Alexandr Vlassyuk

Hiking supplies must include a good pair of hiking boots.

By: rupbilder

Hikers hiking alone should consider choosing busier trails, or carrying emergency locator technology.

By: Dudarev Mikhail

Before hitting the trails, beginner hikers should wear their hiking boots beforehand to break them in.