How Do I Choose the Best Herbal Soap?
Choosing an herbal soap depends on what you want the soap to do or what kind of results you'd like to obtain by using it. You can select a product because you find the fragrance appealing, or because you like the idea of using a natural product on your skin rather than something concocted with harsh chemicals whose names are difficult to pronounce or that may cause a bad reaction. Among the many reasons some shoppers prefer herbal soaps is because they're gentle on the skin, and certain formulations can help with skin problems, such as dryness or acne breakouts.
A variety of herbal soaps are available on the market for purchase, although some advocates of herbal soap prefer to make their own, buying and mixing their own essential oils and other ingredients to obtain the results they want. Basil soap, for example, is touted as a skin softener and antibacterial agent. Chamomile is said to ease rashes and detoxify and soothe the skin, much as it soothes the digestive tract. People suffering from sunburn may try a peppermint herbal soap to soothe the burn.
Other people who might benefit from choosing an herbal soap are those who suffer from allergies. Homemade or handcrafted soaps do not contain harsh chemicals, thereby preventing an allergic reaction to these ingredients. These soaps also can help an allergic person avoid aggravating perfume additives.
It's wise to read an herbal soap's label before purchase. Some soaps marketed as herbal soaps do not contain natural ingredients, and may contain chemicals you might want to avoid. A genuine herbal soap's ingredient label will list the essential oils used to make it, not artificial oils, and it will also list the herbs it contains.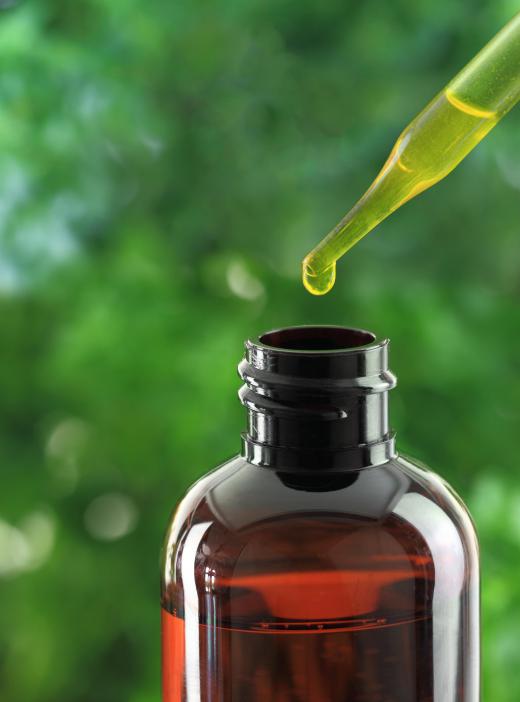 Making herbal soap at home is not a difficult process, and it has advantages over buying commercial soaps. The list of ingredients you can select from is large, and you can create your own mix from the list to more closely suit your purpose. Ginger and sage, for example, are similar to chamomile in producing a calming effect, while rosemary and oregano are stimulating. Tea tree oil and thyme are good cleansing agents with antiseptic properties. Before making your soap, however, it's wise to test the ingredients and oils on a small patch of skin for 24 hours, to determine if you're allergic to any of them.
AS FEATURED ON:
AS FEATURED ON:

By: Barbara Pheby

Basil is often added to soap to help soften the skin.

By: viperagp

Essential oils are often included in natural soaps.

By: Hayati Kayhan

Some herbal soap advocates prefer to make their own from essential oils and other ingredients.