How Do I Choose the Best Heart Rate Transmitter?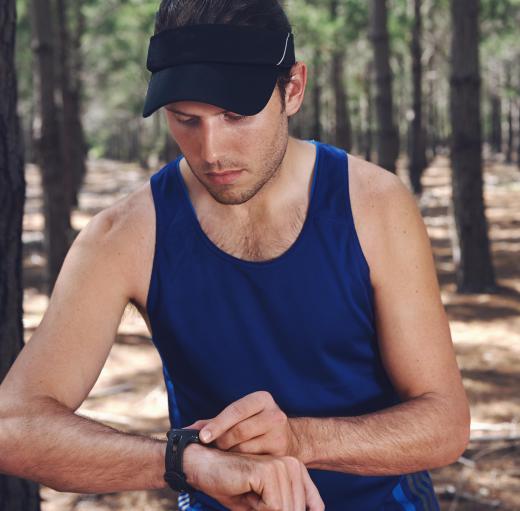 When choosing the best heart rate transmitter for your needs, it helps to research the many different types of products available on the market. Transmitters may be integrated into wrist straps or watch monitors, or may be worn separately, strapped around the chest. Once reliant upon radio transmission, monitoring heart rate has benefited from technical innovations that permit a range of proprietary and networked transmission capabilities. Factors to consider are equipment compatibilities, comfort and fit, and whether the transmitter is coded to prevent signal interferences from other similar devices.
Whether during exercise, athletic training, physical assessments, or other activities, heart rate transmitter units provide valuable running data to assist in optimizing physical activity levels for individual performances. The ability to measure heart rate accurately not only helps people assess their capabilities or achieve their fitness goals, but also can protect them from pushing themselves too hard. Once a fledgling industry, heart rate transmitter products have grown with the popularity of fitness training in general. New technologies permit an abundance of products that work with various degrees of compatibility with other training equipment.
Some heart rate transmitter products are integrated within their own monitor units, such as watches. These are commonly designed for style, comfort, and durability. Depending on your preferences, you might select a monitor based on appearance alone, although it may be wiser to first consider its level of accuracy. Integrated units may provide straightforward heart rate data to help people pace themselves through changing intensity levels for better adaptive fitness.
Numerous additional capabilities, however, accompany technologies such as processors and microchips, and can analyze a multitude of other factors. These can include calorie expenditures, accelerometer speed and distance data, individual lap readings, and lap and session averages. They might also include typical watch features, such as chronometer, calendar, and stopwatch functions.
Heart rate transmitter products abound. They appear in clothing such as women's sports bras and men's tank tops. Others can be networked for computer analysis of multiple units in order to monitor the heart rates of a group working out together. Some are compatible with gym equipment, while others feature water-resistant properties for aquatic applications.
Units worn on the chest usually consist of an electrode strap and a connector. Ideally, these should fit comfortably and not irritate, as well as be easy to attach or remove for washing. Like clothing, this type also comes in various sizes to accommodate a wide range of users.
Decide upon compatibilities with any existing equipment you may require. Understand a product's transmission technology and whether its signal is digitally coded. This feature is particularly useful when training in crowds or around potential signal interferences. Battery life and replacement naturally factor in. Some products transmit to receivers that can generate easy-to-read visual displays of data and sound alerts when the heart rate leaves its target zone.


By: Warren Goldswain

Some heart rate transmitter products are integrated within their own monitor units, such as sports watches.

By: blas

Many heart rate transmitters have typical watch features.

By: adimas

The most accurate heart rate monitor takes the most frequent readings of the heart.