How Do I Choose the Best Hallway Furniture?
The best way to start choosing hallway furniture is to decide what your needs are for storage, decoration, and functionality in a hallway space. In many cases, the hallway requires very little furniture at all, as too much furniture can lead to clutter that can cause injuries or inconvenience. This is especially true in narrow hallways in which space is already limited. Try choosing narrow hallway furniture that does not take up a significant footprint in the hallway, or consider furniture such as shelves that hang from the walls rather than sit on the floor.
Benches and chairs are pieces of hallway furniture that can certainly serve a function, but they can also take up a fair amount of space, especially when someone is sitting in the chair or on the bench. Measure the hallway to see if it is feasible to place a bench or chair in the space, and don't forget to measure a hypothetical distance between a person sitting in the chair and the other end of the hallway. If your hallway has enough room, consider benches that are long and thin rather than chairs that tend to be short and wider. This will save on room while still providing a convenient place to sit. Benches are most commonly seen in hallways near entryways or doors.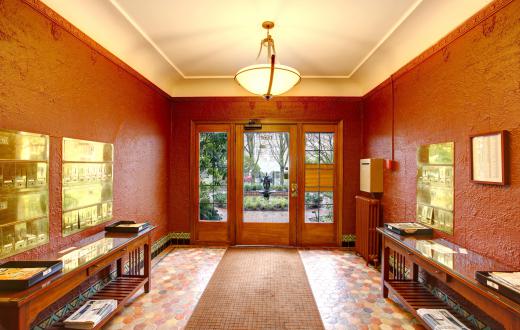 A console table is a good choice for hallway furniture because it tends to be long and thin. It can be butted up against a wall to prevent the table from taking up too much walking space, and it can hold a plant, sculpture, or other decoration. Many console tables feature one or more drawers in which keys or sunglasses can be stored, making it a good choice for an entryway or commonly-used hallway.
Wall-mounted shelves are a good way to get furniture into a hallway without taking up a large footprint or any footprint at all. The shelves can be hung at any height, and a variety of items can be stored on the shelves, from books to pictures or sculptures. Hanging the shelves up high will prevent people walking through the hallway from running into the shelf, though in wider hallways, a low shelf can be useful for placing photographs in frames. Hooks beneath the shelf add more convenience by providing a space for hanging coats or other commonly used garments, or even dog leashes.
AS FEATURED ON:
AS FEATURED ON:

By: Iriana Shiyan

Foyer tables are furniture pieces placed in entryways to hold often used items such as keys, cell phones, or mail.