How Do I Choose the Best Hair Oil for Thinning Hair?
Thinning hair is an ailment that is often associated with aging, although this condition can strike anyone at any age. Prescription medications and natural supplements are common treatment methods for thinning hair, but some patients opt for oils that are applied directly to the scalp. The most common types of hair oil for thinning hair include mineral or olive oil, and they work by stimulating the follicles on the scalp. It often takes several weeks or months for any type of hair treatment to work, so it is best to try a few kinds of oils and wait to see if they are effective.
Mineral extracts are the most common types of hair oil for thinning hair. These are often found in a natural foods or health store, and they are widely available online as well. Common mineral oils that are thought to help to stimulate hair growth include those made from lavender and jojoba, as well as rosemary and thyme. You can use just one type of oil, or you can mix several different types to create your own aromatic concoction.
Olive oil is used for a variety of foods and contains heart-healthy fats. This type of oil also contains vitamins A and E, which are antioxidants that are thought to promote hair growth. Many alternative health practitioners advocate the consumption of olive oil for hair health, but some experts believe that the oil is even more beneficial for thinning hair if you apply it to the scalp.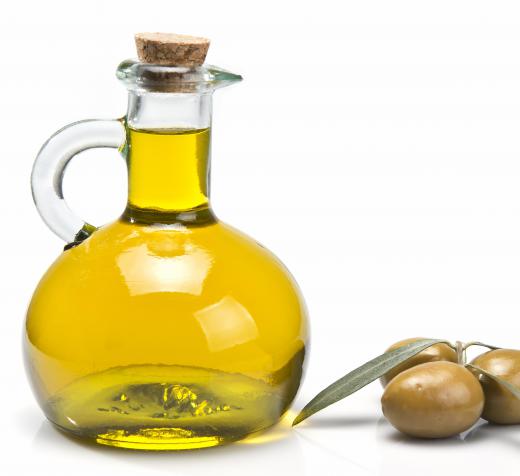 Perhaps one of the most important things to keep in mind is not so much the type of hair oil for thinning hair that you choose, but how you apply it. Mineral or olive oil should be massaged into the scalp so that it can penetrate the follicles properly. Also, you might consider leaving the oil on overnight for the best results.
In some cases, oil for thinning hair can actually make baldness and related problems worse. Using a hot oil treatment might potentially cause inflammation in your hair follicles and possible damage. Once the follicles are damaged, they cannot produce new hairs, which can result in the subsequent appearance of thinning or baldness of the scalp. When applying oil to the scalp, it might be best to avoid heating it up in order to help to prevent damage.
Patience is essential when you try any type of hair oil for thinning hair, because the growing process can take several months. Although normal hair can take three months to grow, you might not see any results from an oil treatment for up to six. Since there are many causes of hair loss, you might consider obtaining the advice of a medical professional if oil treatments fail to produce the desired results. Hormonal imbalances are one of the most common causes of thinning hair, and reversal often requires prescription medications.
AS FEATURED ON:
AS FEATURED ON:

By: draganica

A man with thinning hair.

By: Angel Simon

Some alternative health practitioners suggest applying olive oil to the scalp to promote hair growth.

By: Daniel Hughes

Lavender oil is thought to help stimulate hair growth.

By: diego cervo

Thinning hair can be caused by genetics, medical conditions and hormonal imbalances.