How Do I Choose the Best Hair Brushes?
To select the best hair brushes, choose those that are designed for your hair type and your length of hair. If you prefer to style your hair after you shampoo, a styling hairbrush can help you achieve your desired look. Styling hair brushes are typically round, and many add volume to fine, limp hair. Consider whether you would prefer a hair brush with synthetic or natural bristles. A natural boar bristle hair brush is generally more expensive, but is generally a good choice for healthy hair and scalp.
If you have thick, coarse, or unruly hair, consider buying a paddle brush. The flat surface will help control frizzy or flyaway ends. Most paddle hair brushes are made with synthetic bristles. Round and flat thermal brushes are another good choice for smoothing and controlling flyways. If you live in a humid climate, you might consider an anti-static ceramic style hairbrush.
For smoothing away frizzies and to add shine to dull hair, choose an ionic hairbrush. These hair brushes are often made with synthetic bristles, and nylon is preferable over other materials. If you choose an ionic hair brush, be sure it has an unbreakable handle.
Round hair brushes that are small in diameter will add body and texture to fine, straight hair. Use this style of hairbrush if you want to give your hair extra volume and style after blow drying. You may choose from styles that have natural or synthetic bristles, or those that incorporate both.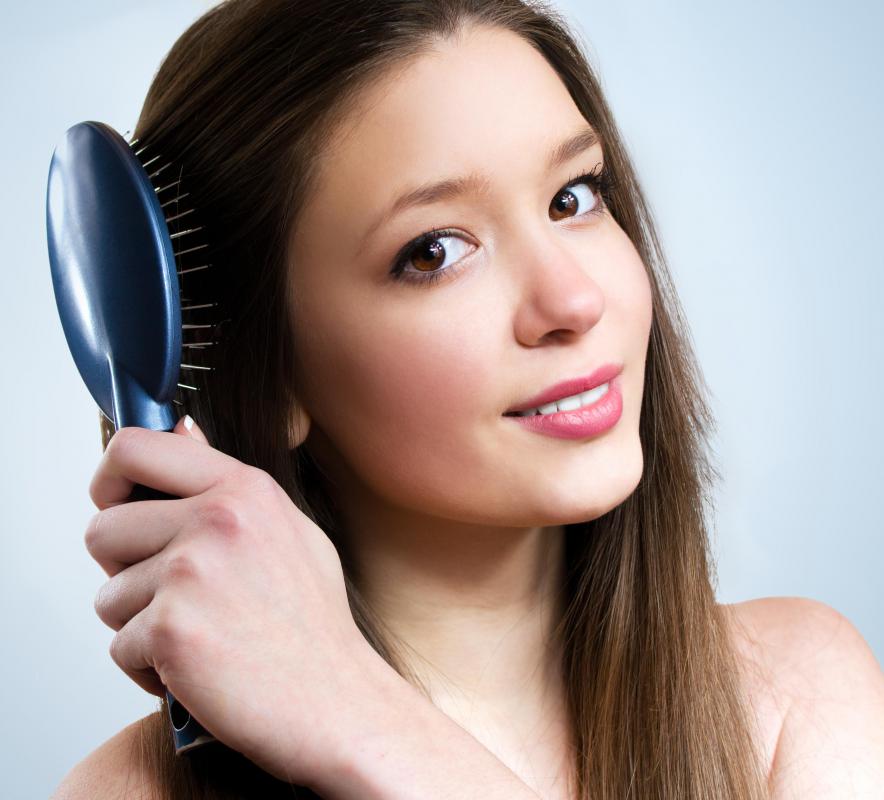 If you do not style your hair very often and simply need a brush for everyday use, consider a paddle brush. This type of brush is versatile, as it can be used on most hair types. A paddle hair brush is also less likely to cause split ends. When selecting your hair brush, look for bristles with tiny tips on the end, and this will prevent damage to your hair.
Vented hair brushes are good for allowing air to circulate, thus reducing drying time. Some hair-care experts believe a vented brush may add extra body and texture to fine or thinning hair. Choose a vented hair brush that is durable and does not easily bend.
Where to buy your hair brush is another factor to consider. Hair salons will generally have the best selection of quality, professional-style hair brushes. If in doubt, speak with your hair stylist, as she knows your hair type and which brushes are most suitable to use.
A woman with long, straight hair, which works well with a round hair brush.

Boar bristle brushes effectively smooth, lift, and help redistribute oil throughout the hair.

Many hair salons have a good selection of high-quality hair brushes for sale.

Plastic hairbrushes might work better for hair that frequently is tangled.

Paddle hair brushes are less likely to cause split ends.