How do I Choose the Best Gel Mask?
A gel mask can refer to two different things. The first is a type of skincare product that is applied as a treatment for the face; it comes in a liquid gel form, and usually includes skin calming ingredients such as chamomile, aloe, or green tea. The second kind of gel mask is a plastic or cloth mask that contains gel on the inside; it is placed over the face, either chilled or warm, to relieve stress and eye puffiness.
The first type of gel mask is somewhat less common, because most people prefer face masks to have a clay base rather than a gel. To choose the best type of gel treatment mask, however, consider the effect you want it to have for the skin. For example, a mask that contains green tea and aloe will likely be very calming; a mask that contains acne-fighting ingredients such as benzoyl peroxide or salicylic acid may be good for fighting blemishes.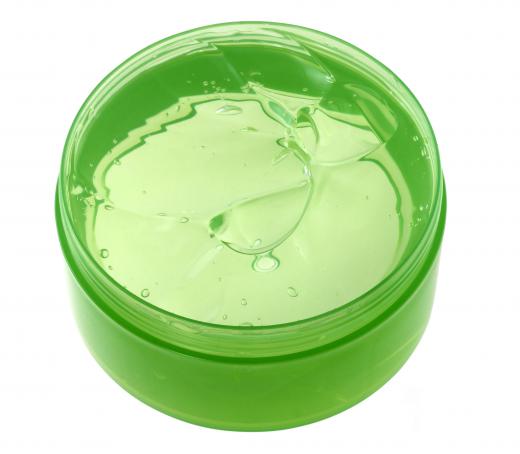 Some gel masks are designed to be moisturizing, and may contain ingredients such as jojoba oil. Others are made from all-natural, organic ingredients. These gel masks may be purchased online or in stores, and are frequently sold in department and cosmetics stores. A salesperson may be able to help you select a good mask for your skin type.
When most people talk about a gel mask, however, they are talking about the plastic or cloth mask for the eyes. When selecting one of these masks, choose one that may be used either warm or cold. For instance, most masks can be placed in the refrigerator or freezer; then, when they are taken out and applied to the eyes, they help to relieve puffiness and pressure in the sinuses. Some may be placed in warm water or even microwaved to be warmed, which can then help to relieve pain from headaches; be sure to read all instructions befor either heating to chilling the mask.
Select a gel mask with a strap that goes around the back of the head, so it will stay in one place while one is resting or relaxing. In addition, choose a mask without any sharp edges that could potentially create small scratches on the face. Some gel masks do not have holes for the eyes, and these may be worn at night to block the light and get a better night's sleep. Other masks do have eye holes, which may be good if you still need to read or get some work done, but your eyes are swollen.
AS FEATURED ON:
AS FEATURED ON:

By: sassyphotos

Aloe gel has a calming effect on the skin.

By: Voyagerix

Many gel masks are formulated to be moisturizing.