How Do I Choose the Best Fusilli Pasta?
Choosing the best fusilli pasta might depend on whether the recipe calls for fresh or dried pasta, what size and type of fusilli pasta is desired and your budget. Fusilli pasta is spiral in shape and can be used by itself topped with sauces, in pasta salads, added to soups or as part of a casserole. Traditionally, the best fusilli pastas are those that are homemade, because the freshest ingredients, family recipes and time-honored production methods tend to create the most flavorful, most tender pastas.
Translated from Italian, fusilli means "little spindles" and is a pasta that is instantly recognizable by its corkscrew shape. Fusilli has a few variations, such as the hollowed-out version known as fusilli bucati and a longer variation known as fusilli napoletani. This type of pasta is great when paired with sauces because its tightly coiled shape holds the liquids well. Fusilli also is a good choice for fresh pasta salads.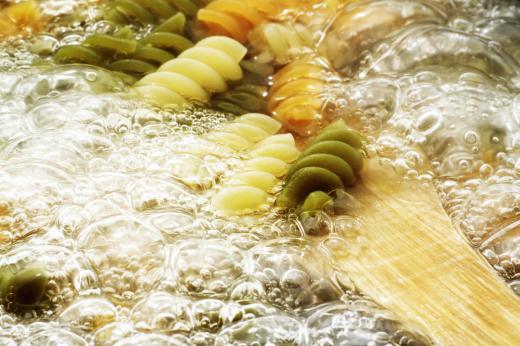 When choosing store-bought fusilli, determine which size and shape best serves your recipes, as well as the cutting dies, grains and brands used to make the fusilli pasta. Those factors all contribute to the taste and consistency of the pasta. Some experts suggest to look for Italian brands when buying fusilli from a store, because they typically are produced in old-fashioned ways that utilize bronze cutting dies.
The cutting dies used to make pasta can affect how the pasta tastes and what kind of texture and porousness it has; this affects whether the sauces slide off or adhere to the pasta. Pasta cutting dies are metal, wheel-like attachments that are used to extrude the pasta from its base form into the shapes and lengths that distinguish it as fettuccine, spaghetti, fusilli or another type of pasta. The dies usually are the bronze type that traditionally are used in Italy and that create a rough, handcrafted appearance and porous texture, or non-stick synthetic dies that, like their name suggests, create smooth and slick-surfaced pastas. Bronze dies that create the rougher fusilli pasta are considered the better of the two methods, because the porous quality of the pasta absorbs sauces and seasonings better.
Your budget is another consideration when choosing the best fusilli pasta. Italian-made pastas and organic pastas will cost more than domestic pastas. Whole-wheat pastas also are more expensive, but they are a tasty and healthy alternative to semolina pastas. Some brands of fusilli pasta are available fresh in the refrigerated section of many grocery stores.
AS FEATURED ON:
AS FEATURED ON:

By: isrgil

Fusilli pasta has many uses.

By: adisa

Some brands of fusilli pasta are available in the refrigerated section of many grocery stores.

By: Profotokris

Al dente fusilli can be coated with chopped tomatoes and fresh herbs for a quick meal.