How do I Choose the Best Fireplace Surround Design?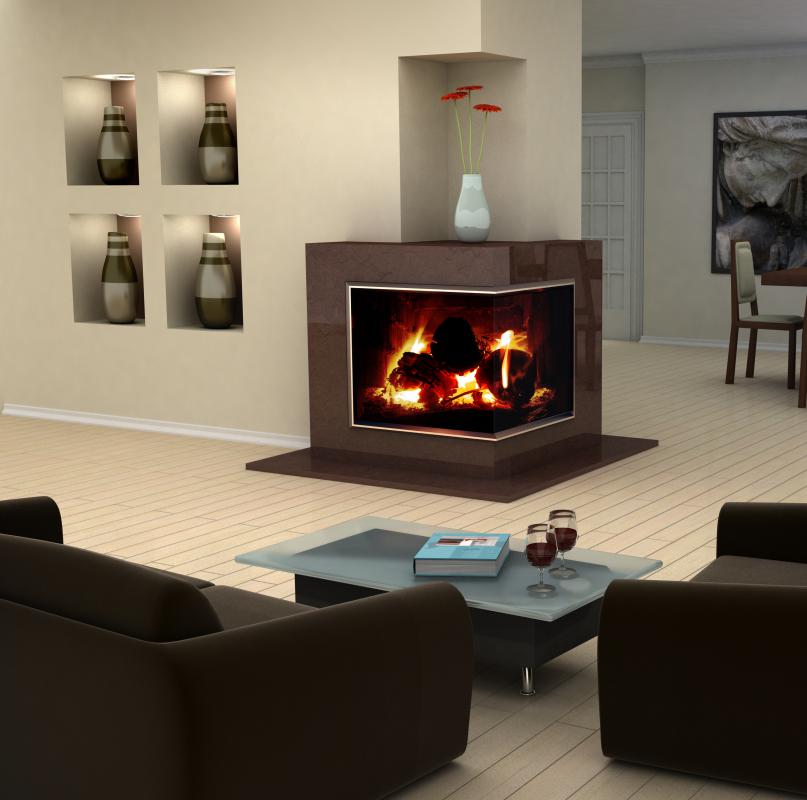 When choosing the best fireplace surround design, it's definitely best to consider not only the room's decor, but the overall style of the home. For example, an antique fireplace surround in a modern, industrial loft style of house is likely to not only seem out of place, but also confuse any future home buyers. A home's value and the return on investment are important considerations when planning any type of remodeling project. If you first look at different types of fireplace surround design in various materials such as wood, stone, marble, plaster, steel and tile before making your final decision, you'll have many options from which to discover the best choice for your home and your budget.
Sleek, silver-colored steel fireplaces, whether angled or rounded, often have clean lines that are ideal for contemporary homes. A contemporary fireplace surround may be made of practically any material as long as the lines are clean-edged without a lot of fussy detail. Rustic, country-style houses and farmhouses usually look best with a wood or stone fireplace surround design. The wood can be anything from knotty pine to oak to maple. As a general rule of thumb, light-toned wood fireplace surrounds tend to look more informal than dark wooden mantles and side pieces.
Stone fireplace surrounds may be composed of large rugged slabs of rock or many small smooth pebbles or rows of slate tiles. While it can be tempting to select a dramatic, high impact stone fireplace surround design that covers the entire wall, this type of showstopper focal point may limit future decor choices in the room. It also may carry the risk of becoming dated looking after about ten years or so. A simple wood or plaster fireplace surround with a mantle section and two side pieces can often be easily removed and replaced if desired. The impact isn't nearly as remarkable with this type of design over a stone or marble wall effect though, so you'd have to decide whether versatility or style is more important to you.
A plaster fireplace surround can be a good choice for people who like crown molding, as the design elements can be quite similar. Some plaster fireplace surrounds are heavily embellished with floral and swirl patterns, while others are plainer with simple molding trim. In addition to slate and stone tile varieties for fireplace surrounds, artistic designs on hand-painted tiles can coordinate well with ethnic style homes.
A fireplace with a minimalist mantel.

A wooden fireplace surround might be a good match for a rustic cabin.

Fireplace surrounds may be made of wood, but not of materials that can easily ignite.