How Do I Choose the Best Fall Desserts?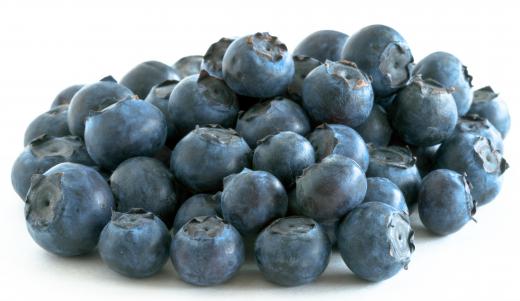 To choose the best fall desserts, chefs can incorporate the spices, fruits, and nuts that are commonly available during this season to set the tone for their dish. Fruits can be baked into cobblers, compotes, and pies, while crusts and fillings are seasoned with the right mixture of spices. Nuts can be crumbled onto pie crusts, open dish fillings, and compotes to add a hint of crunch and sweet but savory flavor, or baked into cakes, brownies, and dessert bars. These basic ingredients can be used to create a multitude of delicious desserts that convey the warmth and tastes of the season in each mouthful.
Frequently used fall spices tend to include cinnamon, nutmeg, allspice, and cloves. These fragrant seasonings are often used in foods, punches, ciders, and room fresheners to set a festive and warm tone throughout the home. They can be purchased as whole foods, such as cinnamon sticks and whole cloves, for an intense burst of flavor and scent. They are more commonly available already ground in the baking section of many local grocery stores, and can be added to recipes for a light or medium hint of flavor. These spices also blend well together, and can be used individually or in a group to complement many fall desserts.
Virtually any type of fruit may be purchased throughout the year in local supermarkets as foods are imported from around the world on a regular basis. Purchasing seasonal fruits, however, usually guarantees customers a crisp, fresh flavor and plump, undamaged meat that cannot be rivaled by imported foods. Among the most popular autumn fruits used in many fall desserts are apples, blackberries, blueberries, pears, plums, and cranberries. To preserve the maximum amount of flavor, chefs should purchase these fruits fresh and use them within the week. They can be cooked down to a syrup-like consistency for compotes and fillings over a hot stove top. They may also be used separately or together, similar to fall spices, to complement one another and create a wide variety of toppings and fillings.
Many different varieties of nuts come to maturity and are harvested during the fall. These sweet, savory morsels can be baked into any chef's favorite fall desserts to add a hint of smoke and the outdoors to the overall ambiance of the dishes. Food enthusiasts may choose to go nutting personally, gathering their favorite varieties from between the roots of trees to shell and eat at home. Those who do not have the right species of trees nearby can purchase this type of food, in whole pieces or broken morsels, depending on the needs of the recipe, in the baking or produce section of most supermarkets. Walnuts, pecans, pine nuts, and hazelnuts are among the more frequently used varieties that adorn desserts, casseroles, and table centerpieces throughout the season.


By: Mariusz Blach

Blueberries are often used in fall desserts.

By: mates

Walnuts are a common ingredient in fall desserts.

By: andriigorulko

Cinnamon is a popular fall spice.

By: jamierogers1

Apple pie is a popular dessert served during fall get togethers.