How Do I Choose the Best Face Cream?
There are many different kinds of face cream. Some are designed for specific purposes, such as to improve the look of wrinkles or to provide sun protection, while others are just designed to moisturize. To choose the best cream, begin by considering what your specific needs are and what type of skin you have.
The most basic types are those that are simply designed to moisturize and do not have any extra features, such as anti-wrinkle properties or sunscreen. Even these basic moisturizers are designed for different skin types. Usually, the skin types fall into one of four categories: oily skin, dry skin, combination skin or "normal" skin: skin which is neither particularly dry or particularly oily.
Once you've assessed what type of skin you have, you will be better able to choose a moisturizer that is designed for your specific skin type. If you have sensitive skin, most face cream brands offer hypoallergenic formulas that are specially designed for sensitive skin. If you have breakouts or acne-prone skin, you will want to purchase a cream that is advertised as non-comedogenic, which means that its ingredients will not clog pores.
You may also choose a face cream for nighttime. Nighttime creams are generally thicker and heavier than day creams, because they are designed to provide deep moisture overnight. These will typically feel more greasy than a day cream as well.
If you have aging skin, there are many different types of anti-aging and anti-wrinkle creams on the market. A firming cream or a tinted face cream might be a good option as well. A tinted cream has a small amount of foundation mixed in with the moisturizer, to even out skin tone and disguise breakouts.
For an everyday cream, it is important to choose a lotion that has sunscreen mixed in. The sun's rays will damage your skin, causing wrinkles, age spots and potentially skin cancer, so it is important to wear sunscreen every single day. Many creams that are designed for everyday use contain sunscreen, but it is important to check.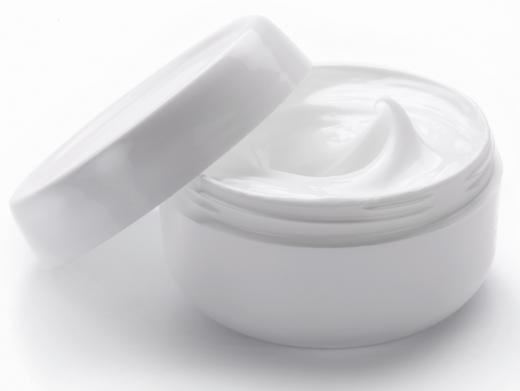 Many ingredients in the creams are designed for a specific purpose. They may contain emollients such as jojoba and lanolin, which moisturize the skin. A face cream might also contain anti-irritants and antioxidants. Alpha hydroxy acids and beta hydroxy acids are common ingredients in moisturizers for those prone to acne. If you are trying a new cream and are often sensitive or allergic to beauty products, it might be a good idea to test the moisturizer in a small area first to make sure you won't have an allergic reaction.
AS FEATURED ON:
AS FEATURED ON:

By: Warren Goldswain

The texture of facial skin should be considered when buying face cream.

By: Robert Kneschke

Retinol face cream may help reduce the appearance of wrinkles.

By: volff

There are many types of face creams, from moisturizers to those that provide sun protection.

By: Mikhail Malyugin

Regardless of skin type, choose a facial moisturizer or cream that offers a sun protection factor (SPF) of at least 15.

By: Konstantin Yuganov

Nighttime face creams are generally heavier and thicker than day creams.