How Do I Choose the Best Face Cream for Winter?
During the winter months, many places experience cold weather that can affect the look and feel of the skin on the face. To protect and moisturize skin, the light products used during warmer months should usually be swapped for a richer, thicker facial cream. The best face cream for winter should keep skin hydrated and prevent it from becoming dry and flaky. When choosing a facial product for cold weather, skin type should be considered. Sun protection is also important, even in the winter time, and any face cream purchased should have some form of sunscreen.
Skin type typically plays an important role in choosing a face cream for winter. Oily or normal skin has different care requirements than dry skin, and the kind of cream selected should work well with the skin's specific needs. For instance, dry skin is usually affected by drops in temperature before other skin types. Therefore, this kind of skin typically requires a deeply moisturizing face cream for winter, in order to prevent the skin from becoming dry and flaky.
Normal skin generally does not tend to be as impacted by winter weather as dry skin does, but this type does require regular moisturizing when the air is cold. The best face cream for winter use, for this skin type, is one that is slightly thicker and more nourishing than that which is used during the rest of the year. Oily skin can also experience dry patches during winter weather, and a light yet hydrating face cream should be used on a regular basis to avoid this.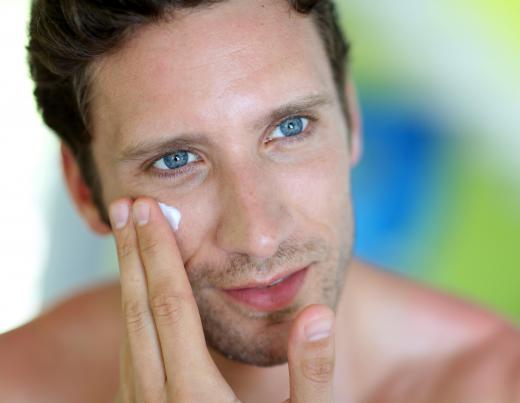 The sun can be damaging to the skin even in the winter months when the temperatures are low. The best face creams contain a sunscreen, which protects the skin from the sun's ultraviolet rays. A cream with a minimum sun protection factor (SPF) of 15 should be selected, but a higher SPF will provide even more protection. Many face creams that are thick and rich enough for winter also offer sun protection.
A variety of nourishing face creams that contain beneficial ingredients can be purchased. These include formulas that are designed to combat fine lines and wrinkles, as well as gentle creams for sensitive skin. The best winter face cream is one that addresses the skin's needs while fitting in with the user's current skin care routine.
AS FEATURED ON:
AS FEATURED ON:

By: picsfive

A face cream for winter.

By: goodluz

Face cream for winter should keep skin hydrated.

By: Africa Studio

A good hydrating lotion or cream should prevent skin from becoming flaky or irritated during the winter months.

By: gosphotodesign

All skin care creams should be selected based on skin type, whether it's dry, normal, or oily.

By: nyul

Fireplaces and other types of heating systems can further dry skin during the winter.

By: Alliance

Skin type plays a role in the best face cream for winter.

By: dmitrimaruta

Some face creams are designed to reduce the irritation caused by shaving.