How Do I Choose the Best Eyebrow Shaping Kits?
Eyebrow shaping kits contain tools and cosmetics designed to shape and enhance the eyebrows. Most eyebrow kits contain a few necessary items, including tweezers, eyebrow pencils and stencils. Many also contain a number of useful extras like shaping gel, eyebrow combs and setting powder. The best kits will come equipped with an instruction manual that shows how to use the tools. When choosing a kit, look for one that provides you with the tools and knowledge you need to properly shape your eyebrows.
The basic eyebrow shaping kits always contain tweezers. Tweezers are necessary for removing stray hairs and maintaining well-groomed eyebrows. There are several different types of tweezers. The most common types are slant tip, blunt tip, precision tip and round tip. While an eyebrow kit may contain more than one type of tweezers, the best kits will always contain angle tip tweezers, as these are the easiest to control.
Eyebrow pencils are very similar to eyeliner pencils. The main difference is that these pencils are created in shades that match different hair colors. When shopping for eyebrow shaping kits, look for pencils that match the color of your natural eyebrows. You will need these pencils to define your brows and fill in any areas where hair is sparse.
Good eyebrow shaping kits should also contain eyebrow stencils. They usually look like plastic cut-outs that can be used to create different eyebrow designs. You can use these stencils as a guide while tweezing your eyebrows or coloring them in. If you are not experienced with eyebrow shaping, these stencils will help you create identical eyebrows that are perfectly formed.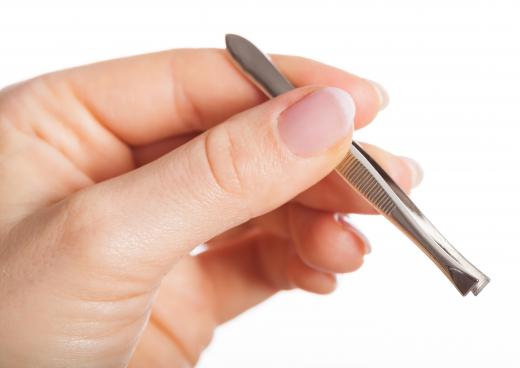 Many kits also contain additional products like shaping gel, combs and colored powders. Shaping gel, which usually looks like a clear mascara, is used to keep eyebrow hair in place. Eyebrow combs are small combs used to brush the hair into place before applying shaping gel. Powders are often used to fill in the brows and to create a thicker appearance. While you are shopping for eyebrow shaping kits, choose a kit that contains a few of these products and includes colors that match your natural brows.
Eyebrow shaping kits may also contain an instruction manual. The manual should explain correct eyebrow proportions and teach you how to use the different products. To choose the best kit, look for one that will teach you about eyebrow grooming and supply you with the products you need to maintain well-shaped brows.
AS FEATURED ON:
AS FEATURED ON:

A woman with shaped eyebrows.

By: Photographee.eu

Straight tip tweezers are often used to shape the eyebrows.

By: Xuejun li

An eyebrow shaping kit should include eyebrow pencils that match the color of your natural eyebrows.

By: Andriy Petrenko

Soft filler brushes can be used to blend out color added by an eyebrow pencil for a more natural look.

By: MarkFGD

Plucking can remove stray and unruly hairs from eyebrows.