How do I Choose the Best Expenses Spreadsheet?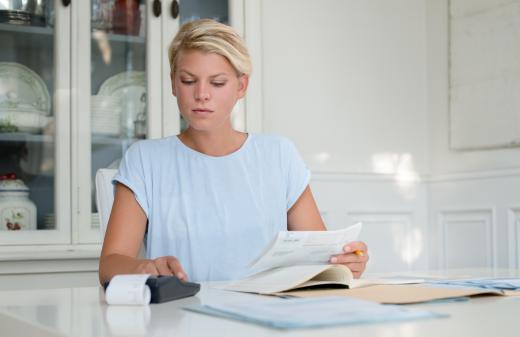 Spreadsheets are useful for tracking expenses at multiple levels. Their column and row structure enables them to be printed easily and shared among interested parties. To acquire the best expenses spreadsheet, the user must first define the purpose of the sheet and the desired outcomes from using it. The skill level of all users should also be taken into account. Cost and availability round out the final criteria for the best expenses spreadsheet.
For tracking home expense purposes, tablets consisting of 25 or 50 copies of a daily expenses spreadsheet are available in office supply stores. These forms provide spaces for tracking meals, car mileage, gas purchases, and other expenses. By diligent use of these forms, users can accurately analyze expenses on daily, weekly, or other relevant periods. The forms are inexpensive, easy to use anywhere, and communicate results clearly.
Computer versions of the paper spreadsheet are offered in many types of account management software for home and office use. These programs have subprograms that manage the same expenses but add categories such as training classes or uniforms. Networked users can fill out the forms online, and the results are merged into corporate accounting system. On or offline, the expenses spreadsheet must be clear and unambiguous. More sophisticated programs have error-checking routines that filter the user's input and limit errors.
Corporate scale accounting programs often overlook the necessity of project control at middle management levels. Good programs offer modules that gather project level data easily, present to middle management, and roll the values up into the accounting modules. The best programs actually separate the project management from the corporate accounting, giving the project or department managers the opportunity to approve and submit expenses to the corporate level.
Between commercial software packages and commercial forms are user-developed forms and programs using commercial spreadsheet applications. Many templates are available online that the user can customize. Expenses spreadsheets may be combined to provide input to another program.
Many an expenses spreadsheet fails to be implemented effectively because it is overly complicated. The reward of simple spreadsheets, as long as critical information is gathered, is higher compliance and accuracy. In an effort to prevent misuse, companies often gather miscellaneous information that is not actually reviewed or useful.
Children can be taught to track their own clothing or entertainment expenses in preparation for more complex financial management tasks. Income is usually fixed for a family, and the expense side of the budget is often the only element that can be managed. Children can design their own expenses spreadsheet on simple, ruled paper and take a first step toward financial independence.


By: diego cervo

Some people find they still want to use pencil and paper in addition to an electronic planner.