How Do I Choose the Best Electronic Drum?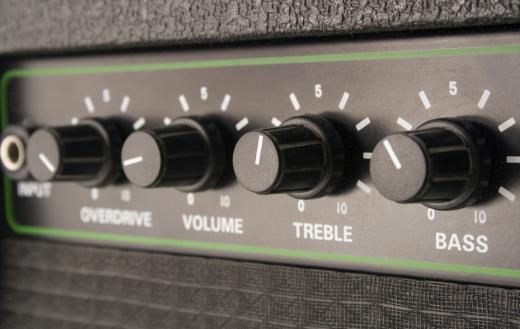 There are a few key factors to consider when purchasing an electronic drum or drum set. First, it is important to consider whether you will be using an entire electronic drum set or just one electronic drum. Most drummers only use an electronic set for practice to better control volume levels. Acoustic drum sets are commonly combined with one or two electronic drums to give the musician a variety of sounds.
Percussionists often add single electronic drums to their traditional acoustic sets. The acoustic and electric drums intertwine into one drum set with the acoustic drums working as the main percussive force. The electric drum comes in the shape of a square pad or circle that often sits near the acoustic snare. This electric drum runs through a PA or amplifier and commonly has multiple settings for a drummer to choose from.
When choosing one single electronic drum as opposed to an entire electric drum set, it is best to purchase a drum pad with multiple tone settings. These are sometimes known as performance pads. These electronic drum pads can cost as little as $150 US Dollars (USD). Higher-end models are also available at $300 USD and above. These are carried online and at all major music retail outlets.
These models often come in rectangle shapes with six to eight squares. Each square can be programmed to different sounds from drum imitations to guitar chords to cartoon noises. The options are endless. Many electronic bands or live hip-hop acts implement these devices for a more electronic sound. Drummers use these pads simply for added noises or to play full drum beats. Expansion packs are available to add more sounds to the device.
If you are looking to purchase an entire electronic drum set, look at spending between $700 and $100 USD for a decent model. These sets include a bass drum, low toms, rack toms, snare, and any number of cymbals. One benefit to an electronic drum set is that all cymbal stands and most accessories are included in the package. Cheaper models are available for around $300 USD but are known to break down more often. These are the best options for beginning players, though.
Laptops are also becoming implemented on stage for percussive beats. They are not drums in a traditional sense. Many would, however, consider them electronic drums due to their ability to play a variety of electronic drum beats and loops.


By: matt&stustock

Electronic drums require and amplifier or PA to be heard.

By: Harry Lewkowicz

Some drummers prefer to incorporate electronic drums as part of an acoustic drum kit.