How Do I Choose the Best Digital Projector?
Digital projectors can be used in both home entertainment and business contexts, so there are many different factors to consider when looking for the best one. Three main items you may want to look at are how bright the display is, the resolution, and the size of the unit. A digital projector with a low brightness is often suitable for home entertainment needs, while a business projector that will be used in well lit rooms may need to be substantially brighter. Resolution can be very important if you intend to watch high definition (HD) content in your home theater, and compact size could be a motivating factor if you will need to take your digital projector on business trips for remote presentations.
One of the most important factors to consider when looking for a digital projector is the brightness. The measure of brightness used for digital projectors is lumens, and these numbers can provide you with a good idea of how well a unit is likely to work in a given situation. Most projectors fall somewhere in the range of 800 to 2,200 lumens, though it is possible to find brighter units. If you have a home theater room that is very dark, a projector with a lumens rating of under 1,500 will tend to provide an adequate picture. Media presentations given in dim light typically require about 1,500 to 2,000 lumens, and a room with regular ambient lighting may require a projector with over 2,000 lumens to provide a good picture.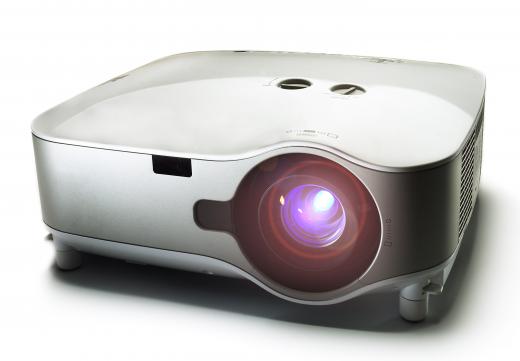 Resolution is another item to consider when looking for the best digital projector. If you will use the projector to watch standard definition (SD) content, such as movies on digital versatile disc (DVD), then a wide video graphics array (WVGA) or super video graphics array (SVGA) digital projector will typically be sufficient. This type of resolution may also suit some business needs, though higher resolutions may be required for some presentations. If you expect to watch high definition content, then you may want to look at a projector capable of displaying extended graphics array (XGA) or even higher resolutions.
The size and form factor of a digital projector can also be important to consider. If you have a projector shelf in your home theater, you may be limited by the dimensions of that space. It is also possible to find portable digital projectors for business use. These projectors often lack the very high lumens and resolutions of larger models, but they can be very convenient if you travel a lot and give presentations on the road.
AS FEATURED ON:
AS FEATURED ON:

By: M S

A digital projector may be used in business presentations or home theaters.

By: ludmilafoto

Digital projectors can be used in home theaters.