How Do I Choose the Best Deep Meditation Music?
Deep meditation music is intended to lead a listener into a deeply relaxed, focused, and sometimes trance-like state. The best music for such purposes varies from person to person, though there are several types of music that are crafted precisely for the purpose of meditation. Some include soft, calming melodies, often with the addition of sounds from nature such as wind blowing through branches or waves crashing on a beach. Others are based on more intense electronic sounds, often with repeated sections intended to lead one into a trance-like state. Many even use isochronic tones or binaural beats, which are particular types of sound waves intended to influence brain wave patterns.
The simplest and most common forms of deep meditation music generally involve soft, quiet, and relaxing instrumental sections. They are intended to have a calming effect and to block out ambient noise, not to influence or focus one's thoughts in any particular way. While this form of deep meditation music can be beneficial for its calming effects, it may be too calming and can easily lull the listener to sleep. For those who can remain focused and awake, this form of music is often best, as it can be relaxing without being distracting.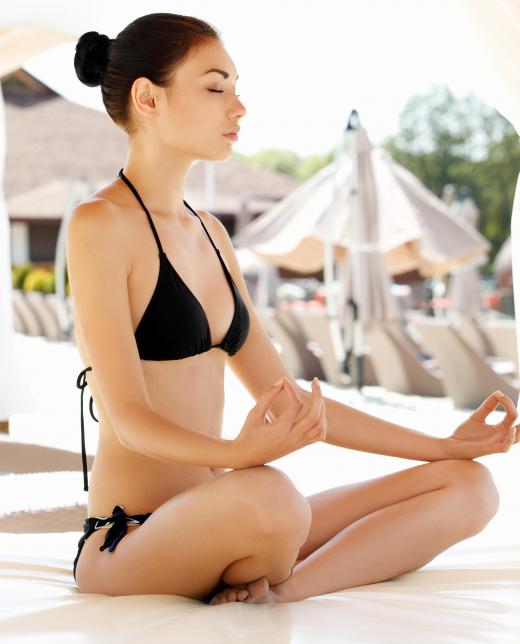 Other types of deep meditation music are primarily electronic and are typically based on rapid, repeating sounds. While such music may appear harsh and unpleasant at first, the repetition can actually lead one into a deep trance-like state, as the sound effectively blocks external noise and provides a constant beat on which to focus. For this reason, many consider such electronic "trance music" to be the best deep meditation music. These forms of music often include single repeated sounds or low-frequency sound pulses intended to influence brain waves in order to induce a state of deep meditation. For this effect to work, it is sometimes necessary to hear different tones in each ear, which would require one to wear headphones.
Different varieties of meditation often have different goals. In many, the goal is to completely clear one's mind and to achieve a very deep state of calmness that generally is impossible to achieve without focused effort. Deep meditation music can make this form of meditation difficult, as one may feel compelled to focus on the music instead of clearing one's mind. In others, the goal is to reach a relaxed state that allows for focused contemplation of particular ideas. For some kinds of meditation, the best deep meditation music includes recordings of voices intended to focus the listener's thoughts on these ideas.
AS FEATURED ON:
AS FEATURED ON:

By: puhhha

Meditation music should be music without lyrics.

By: Maridav

Deep meditation music is intended to lead a listener into a deeply relaxed, focused, and sometimes trance-like state.

By: olly

Soft instrumental music is very calming, making it ideal for meditation.

By: Johan Larson

Soft and relaxing instrumental music is the best deep meditation music for someone who has trouble falling asleep.