How do I Choose the Best Deep Cleanser?
A deep cleanser usually means a facial cleanser that is better at removing dirt from skin surface, but also has some action in cleaning dirt and oil out of the pores. Use of one presumably leads to fewer breakouts or skin problems. There are so many choices available, it can be hard to pick just one, but people can narrow down the selection by considering their skin type and any particular skin issues they may have, the types of ingredients they like to be present in cleansers, and whether they want the deep cleanser to work as an exfoliant too.
Facial skin is normally classed as oily, dry, combination or sensitive. Oily skin breaks out easily and sometimes people even notice accumulation of oil on the face as the day progresses. Dry skin tends to more delicate, is prone to flaking, and some people have a combination of oily and dry skin, where especially the forehead and nose can get oily. People who have sensitive skin tend to easily react to chemicals placed on the face and should be aware of products they choose. When looking for a deep cleanser, it usually wisest to choose one based on skin type, though some brands do have "all type" products.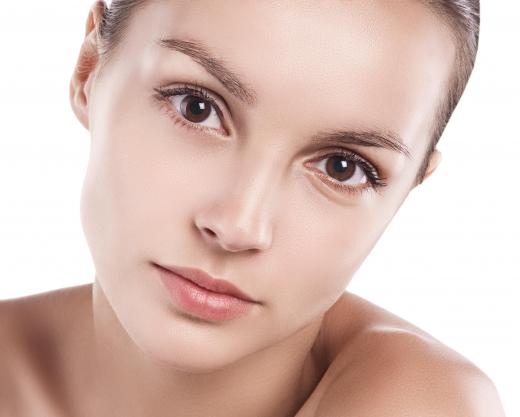 Consideration of ingredients can be important too. Some people are very committed to not buying products that use animal testing for instance, and could look for cruelty free labels. Others don't want to use a deep cleanser that contains a high number of chemicals. Instead, they could shop for good quality products at places like natural food stores, or increasingly at stores that sell lots of skin care brands, such as Sephora®. A few deep cleansers with wholly natural ingredients might be available in local drug stores.
Sometimes there is division between the idea of a deep cleanser and an exfoliant. Exfoliants tend to a feel a little rough on the skin and rubbing the skin with them helps to slough off dead skin cells, which help skin renew itself more quickly and which may prevent some formation of whiteheads and blackheads. Deep cleansers could be creamier or soapier in feel, without that "rubbing off" sensation. Theoretically both exfoliants and any form of cream or soap cleanser can be deep cleansers.
The reason the matter requires thought is because people should decide if they want one or the other, or both. It's quite easy to find as many exfoliants as cleansers, and either one may do well. For people with very sensitive skin, though, the deep cleanser could be a little more useful, with less chance of irritating the skin.
A few other suggestions may help people find the best deep cleanser. Reading magazine reviews can be useful to see how different well-known brands are rated. Asking friends with clear skin what brand they use is another way to go. Getting recommendations from doctors, especially dermatologists, could be helpful too.
AS FEATURED ON:
AS FEATURED ON:

By: Sikov

Friends with clear skin might recommend a deep cleanser.

By: moonrise

A deep cleanser removes more dirt on facial skin.