How Do I Choose the Best Cycling Arm Warmer?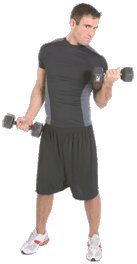 The best cycling arm warmer will come in a set so both arms can be covered at once. These garments cover from the wrist to the shoulder, and they can come in various thicknesses, styles, and functions. Choosing the best cycling arm warmer set starts by determining how and when you are likely to use them; extremely cold conditions will require a thicker set, while mild conditions or varying temperature levels may only necessitate thinner arm warmers that will not obstruct movement or shift during use. Above all, the garments should be comfortable and they should stay in place during normal movements.
Many cycling arm warmer sets feature rubberized bands or elastic at the top of the garments where they will be situated at the top of the bicep. These bands prevent the arm warmers from falling down as the body moves, ensuring you stay warm and comfortable during your ride. Be sure to choose cycling arm warmer sets that feature such bands so you will not have to deal with garments that bunch up or otherwise fall out of position during your ride. The wrists of the warmers may also feature elastic bands, though this is less common for comfort reasons.
The thickness of the cycling arm warmer sets can vary according to how they will be used. Some warmers are insulated with a synthetic material that is soft and moisture-wicking; others are very thin to accommodate rides in mild, but not cold, temperatures. In either case, be sure the cycling arm warmer set you choose is made from a synthetic material that is quick drying and moisture-wicking. This means sweat from your body will be pulled away from the skin to ensure the body stays warm and dry during physical activity. Some natural fibers are capable of this, but they can be more expensive and uncomfortable during physical activity. Most warmers will be made from synthetic materials.
It helps to choose a cycling arm warmer set that is easy to put on and take off, especially while riding. This usually means simply buying the set that is the right size for your arms, as sets will often be sold in small, medium, large, and extra large sizes. Some sets, however, will feature additional conveniences such as small zippers that will allow you to tighten or loosen the garments quickly and easily for more expedient removal while riding your bicycle.


Man lifting weights