How Do I Choose the Best Curling Iron Holder?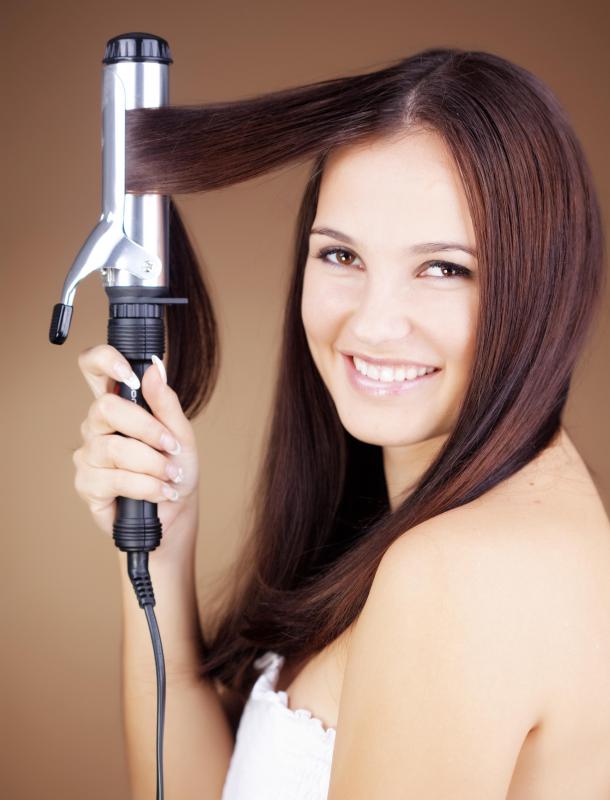 Choosing the best curling iron holder can take away the chaos of managing cords and clutter. Curling iron holders can also make it easier and safer to curl hair without burning nearby items. When searching for the best holder, it is essential to look for safety, heat proofing, style, and price. Specialty stores such as beauty supply stores have many brands and styles to choose from.
Safety is the most important factor to consider when purchasing a curling iron holder. For a person who uses her or his curling iron daily, there is typically an issue of where to keep the curling iron while it cools down. If a person has children, the safety of storing a curling iron out of reach is essential. There are many wall-mounted curling iron holders, and this may be a good solution for someone who is looking to keep the iron safely out of a child's reach.
There are curling iron holder materials used in the marketplace that are not heat resistant. Choosing a heat-proof curling iron holder will prove to last longer. The heat-resistant holders are generally a bit more expensive than those that are not, but curling iron holders that aren't, such as plastics, can melt. The metal designs that can be wall mounted or inserted in a drawer or cabinet are good heat-resistant options. There are many heat-hesitant fabrics that allow the curling iron to be inserted into a pouch and stored away in a drawer without melting or burning the material.
The choices of colors and styles of curling iron holders are endless. Professional hairstylists commonly use a high-quality, chrome curling iron holder. This type of holder is large enough to hold a curling iron and a blow dryer, and some can hold a third item such as a straightening iron. The chrome is heat resistant and is a top-of-the-line holder that sits on a countertop or is mounted to a wall.
The price range for a curling iron holder can be quite wide. Some curling iron holders can come with compartments that hold curling iron accessories and other hair styling tools. Another factor that influences the price of a curling iron holder is the material it is made of. The plastic nonheat-resistant holders are the least expensive, the holders with heat resistant coating are priced mid range, and the holders made of completely heat-resistant materials tend to be the highest in price.
Curling iron holders should be heat-proof so they can safely hold the iron while it cools down.

Style, pricing and safety are all important considerations when choosing a curling iron holder.