How Do I Choose the Best Convection Stove?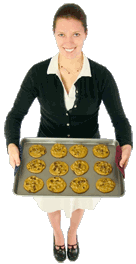 Choosing the best convection stove requires fully understanding your cooking needs as well as your space and the electrical requirements of your kitchen. There are many different types of convection stoves on the market today, from small counter-top ovens to free-standing convection ranges. Homeowners can have the convenience of cooking with convection, but there are also professional convection stoves for commercial bakers. The best type of oven will depend on how you will be using your oven, whether for professional baking or preparing homemade fare.
Convection ovens, also called induction ovens, work by moving air around food within the oven chamber. Most convection ovens use electric heating coils to provide heat and fans to move hot air over food. The contact of heated air with food will cook food more quickly than heat that simply radiates from heating coils. A convection stove can also be more energy-efficient than a conventional stove because it cooks food more quickly with less power intake. All of these factors can make a convection stove a good choice for homeowners or business owners who want an energy-efficient way to cook food.
A professional convection stove can be a good choice for bakers or restaurant owners who need an energy-efficient and quick-cooking stove. Like household ovens, smaller professional convection ovens can be installed on a counter-top for cooking smaller items, but there are also large commercial ovens for baking multiple racks of baked goods. Choosing the best convection stove for a commercial kitchen involves similar factors to choosing for a home kitchen, including space requirements, electrical outlets, and volume of food being prepared.
Installing a convection stove can be as simple as installing a traditional gas or electric stove. A smaller counter-top unit can be as easy to install as finding counter space and plugging in the unit. However, there are also freestanding convection ovens that work just like other types of cooking ranges. Many models also come with a self-cleaning mode that removes dirt and baked-on grime automatically.


Woman baking cookies