How Do I Choose the Best Computer Subwoofer?
If you are interested in upgrading your sound system to include a computer subwoofer, you need to consider a few things before making a purchase. The size and style is important because you want to have a computer system that looks appealing with your other hardware. Quality is another important aspect of making a decision about a computer subwoofer because you want it to enhance your existing sound system. You need to choose a computer subwoofer that will work with your current computer system, and also consider the end use of the subwoofer in your home or office. Your budget is also significant because you need to choose components that are affordable.
Computer subwoofers come in a variety of styles and sizes, so you should choose one that blends in with your existing components. This means that it is a similar color and shape to the rest of your computer equipment, as you do not want the subwoofer to look out of place in you home or office. Different brands offer components such as subwoofers that are meant to blend in with your existing equipment, so consider selecting a subwoofer that is the same brand as your computer.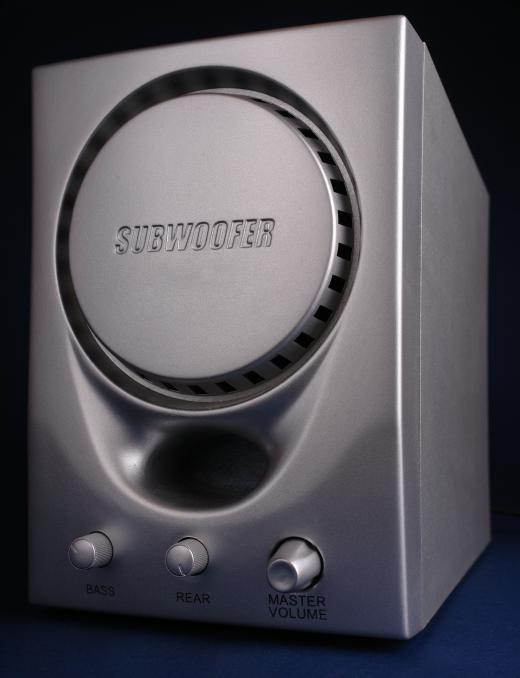 The next consideration is the quality of the computer subwoofer. Some subwoofers are meant to work better in large spaces while others create a better sound in smaller locations. This is known as the range of the subwoofer, and can be home theater-quality with the right equipment. Speak with the people at the store to determine the subwoofer with the best quality for your needs.
Certain subwoofers are meant to work with specific computer systems, so this eliminates products in your search automatically. The best subwoofer for you will easily hook up to your current system without a lot of problems. A computer subwoofer made for a laptop might not work well with a desktop or home theater system, but most desktop computers have the hook-ups needed for a subwoofer.
Determine your budget before attempting to select a computer subwoofer to automatically eliminate certain models. At this point, you can choose the highest-quality subwoofer that is within your budget that also meets the rest of the criteria for style and end use. Subwoofers come in a wide range of prices so there should be one that will meet your needs as far as your budget is concerned as long as you do research before purchasing.
AS FEATURED ON:
AS FEATURED ON:

By: Roman Milert

Subwoofers are designed to reproduce bass sounds with more clarity than full range speakers.