How Do I Choose the Best Collagen Lotion?
If you would like to reduce signs of aging, a collagen lotion can help. When you are trying to decide on a product, it can be helpful to read the label to see what ingredients the lotion contains. Avoiding those that have harmful chemicals can be a good idea, as these ingredients can also damage your skin and make you look older. It is also helpful to know if you have dry, oily, or sensitive skin, or a combination of these types, so you can buy a formula designed to fit your needs.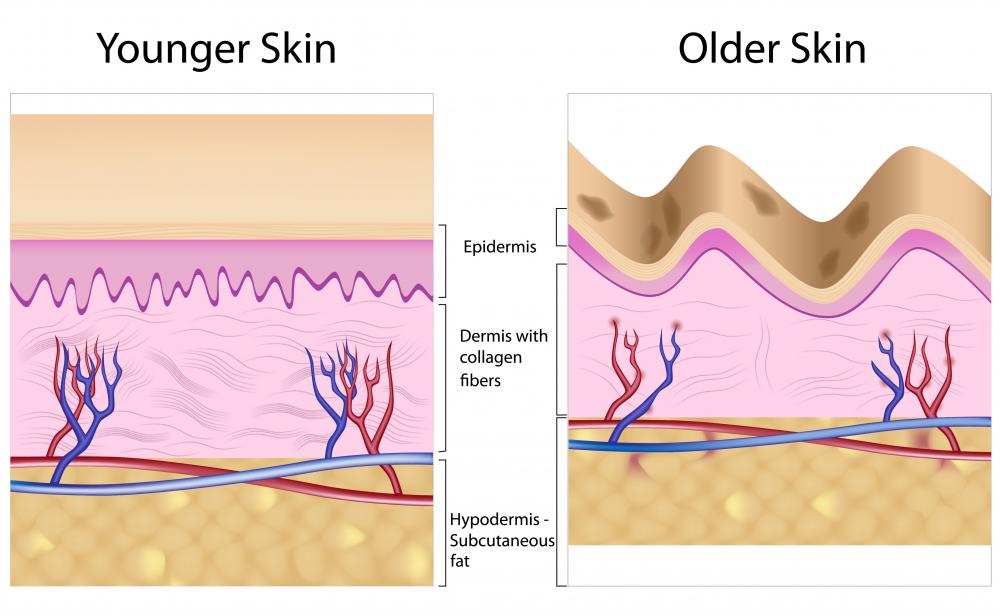 There are different types of collagen lotion for your face and body; some may be used for both. You may want a firming lotion that will reduce puffiness under your eyes if you are using it on your face, but prefer one that will also reduce stretch marks if you are using it on your body. Some may also reduce age spots, and this can be a good choice whether you are using it on your face or on your body.
Reading the label of a collagen lotion bottle will let you know what it is made from. Avoid lotions that contain added dyes or perfumes, as these might irritate the skin. Brands that contain parabens and alcohols should also be avoided, as these could dry out your skin rather than moisturize it. If you are able to find a natural firming lotion, this could be a good choice, especially if the cream contains phytessence wakame or keratin.
Collagen lotion can be made for dry, oily, or sensitive skin, so it is important to know which type you have. You may have oily or sensitive skin on your face, but the skin on your body could be very dry. If this is the case, you may need to buy separate products in order to make sure you have the right one for each area. In the event you have special conditions such as eczema, you may need to talk to a dermatologist and ask her to recommend a product for you.
When you are shopping for a firming lotion, it can be a good idea to try a little bit of the product first. If possible, squirt a few drops of lotion into the palm of your hand and see if it feels greasy. Rub it into the back of your hands to see if it absorbs easily. When you are finished, your hands should feel smooth but not oily if the product has the right consistency to it.