How Do I Choose the Best Cold Cream?
Consumers who are looking for the best cold cream should be looking for a product which can remove makeup and clean skin effectively while leaving the skin moisturized. The formulation should be non-irritating for sensitive skin. Another important feature to look for is that the cream won't clog pores. Buyers who are looking for the right product for their needs should also consider price before making a decision.
Cold cream is used to remove makeup without water. The product is applied to the face with the fingers and can be massaged gently into the skin to loosen dirt, oils, and cosmetics. Tissues, makeup remover pads or a damp facecloth can be used to remove the product from the face.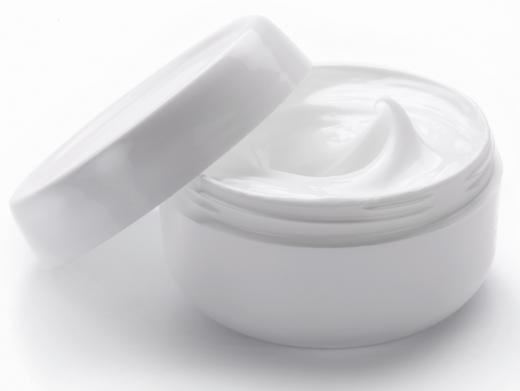 One advantage to using this product over soap and water for makeup removal is that it does not dry the surface of the skin. A number of kinds of soap dry the skin, which makes it more likely that lines and wrinkles will develop on its surface. Using a cream helps the user to avoid the tight feeling which can occur after using soap, and a separate moisturizer doesn't need to be applied after cleansing.
People who know or suspect that they have sensitive skin should look for a cold cream which is free from fragrance and dyes. Choosing a hypoallergenic formula means that the product should not irritate the skin during or after use. Reading the label carefully should reveal this important information. Some manufacturers offer products specifically formulated for customers who are concerned about skin irritations.
When looking for cold cream or other skin care products, it's important to choose brands which will not clog pores. A blockage in the skin's pores can be a breeding ground for bacteria and can lead to blackheads, whiteheads and acne pimples. Unlike products containing harsh astringents, cold cream will not strip the skin of oils necessary to keep it soft and supple.
Budget considerations also factor in when trying to choose the best cold cream. A higher-priced product will likely have a richer texture and may be easier to remove from the skin. Anyone using this product should avoid pulling or tugging on the skin as much as possible, since this can lead to irritation.
AS FEATURED ON:
AS FEATURED ON:

By: volff

Cold cream is used to remove make-up without having to use water.

By: Konstantin Yuganov

It's important to looks for a cold cream that won't clog pores.

By: ipag

Cold cream is a common alternative to traditional facial cleanser.

By: Picture-Factory

Unlike soap and water, cold cream does not dry out the surface of the skin.

By: gosphotodesign

All facial creams should be suited to your skin type, whether it's dry, normal, or oily.

By: Doruk Sikman

A blockage in the skin's pores can lead to blackheads.