How do I Choose the Best Chocolate Body Butter?
Choosing the best chocolate body butter for you means shopping at a trusted source and reading the labels of different butters. The ingredients in chocolate body butters vary widely. It's a good idea to buy smaller jars of a few butter brands you want to try to find the one you like the best. Look for travel sized containers of body butter, then buy a larger jar of your favorite.
Chocolate body butter is available in dark, milk and white varieties. If you like the light-colored look of traditional moisturizing skin lotions, you may prefer white chocolate body butters to their darker counterparts. White chocolate butters may also be less intense in their aromas. Milk chocolate body butters usually have a medium to strong vanilla scent to them. Dark chocolate body butters are the most intense in smell and color. Some of these may have espresso or other coffee flavors added.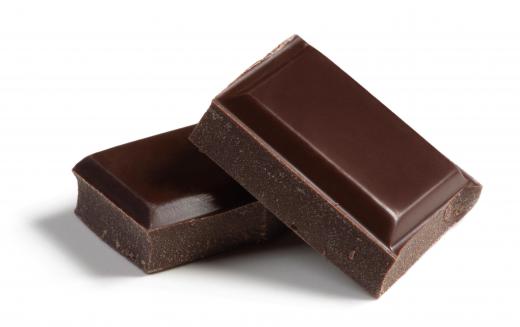 A coffee-chocolate, or mocha, body butter can be invigorating to use in the morning. Some mocha body butter applied onto rough dry feet or elbows after a morning shower can be a smoothing and soothing way to start the day. Other than coffee or vanilla, floral scents may be added to chocolate body butters and you may or may not like these blends. Again, it's best to read labels and try a small size before buying a chocolate body butter in a large tub-like container.
Keep in mind that chocolate body butters are made for very dry skin. If you have a normal or oily skin type, you may want to use these butters less than daily or only on your feet or elbows rather than all over your body. If you're pregnant, you may want to use a body butter on your stomach daily to try to prevent or reduce the appearance of stretch marks.
When reading the labels of chocolate body butters, you should consider the other oils and soothers besides cocoa butter. Aloe vera can give a creamy, refreshing feeling when added to a chocolate body butter. If more coconut oil than cocoa butter is used, chocolate body butters may feel less oily on the skin.
Once you discover the chocolate body butter you like best, you may find that the product line expands into related products. For example, many lines of chocolate body butters include lip balm and bath soap in the same scent. A set of chocolate body butter related products can also make a nice gift for a friend or relative who has similar product tastes.
AS FEATURED ON:
AS FEATURED ON:

By: Andris T

Chocolate body butters contain artificial scents, in most cases, and no real chocolate.

By: svl861

The amount of cocoa butter in a chocolate body butter is one factor to consider.