How do I Choose the Best Children's Silverware?
Choosing the best children's silverware doesn't have to be a daunting task. The best way to find the type of silverware you need is to go by your child's age or skill level. Young babies and toddlers will require a different type of children's silverware than kids who are older and more advanced at eating solid foods. Browse through your local department store, children's store, or baby store and see what type of selection each place offers.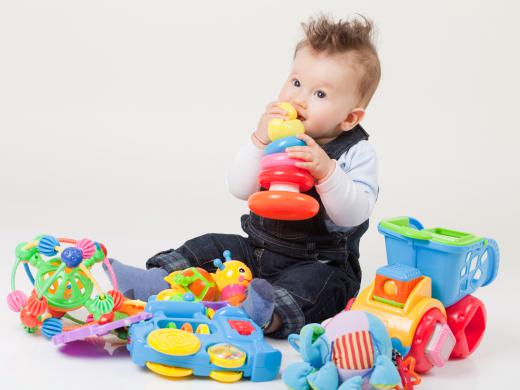 For infants who are just learning to eat solid foods, the most appropriate type of children's silverware features a metal handle with a rubber coated spoon at the end. Forks and other utensils are generally not needed at this stage, as children in this age group are limited to pureed foods with no solid pieces. The rubber ends are smaller than average, allowing you to pick the right amount of food and to fit in the child's mouth comfortably. Babies may also appreciate the rubber ends, as they are appropriate for gnawing on during teething. Plastic infant spoons are also available, although they aren't as comfortable for teething babies.
Old infants and toddlers can progress to larger children's silverware. These are often made of plastic to prevent children from injuring themselves with forks and other utensils. Since children may also begin self-feeding during this time, silverware should have wide handles that are easy for small hands to grasp. Some even feature rubber coating on the handle to prevent slipping.
Children over the age of five will most likely be adept enough to eat with regular forks and spoons like the rest of the family, but you still may choose to purchase specialized children's silverware for them to enjoy. For instance, many silverware options have colorful plastic handles that are easy to grasp. They feature various shapes, characters, and colors to reflect your child's personality. You may even be able to find sets which also come with children's cups, plates, or napkins.
Other specialized options may include engraved metal silverware for infants, toddlers, and older children.These are not generally used for dining, but are saved as keepsakes to remember your child's youth. You can find these and sometimes other options at various children's boutiques and specialty stores. It may also be possible to find a regular metal spoon and fork set and have it engraved to your liking at a jewelry store or engraver's.


By: Bert Folsom

Plastic silverware may help prevent children from harming themselves during meals.

By: dechevm

Silverware with rubber ends may be appropriate for babies who are teething.

By: sonsedskaya

Rubber coated spoons are ideal for infants who are just learning to eat solid foods.

By: _ossa_

Older infants and toddlers can progress to larger children's silverware.