How Do I Choose the Best Charter Bus? (with picture)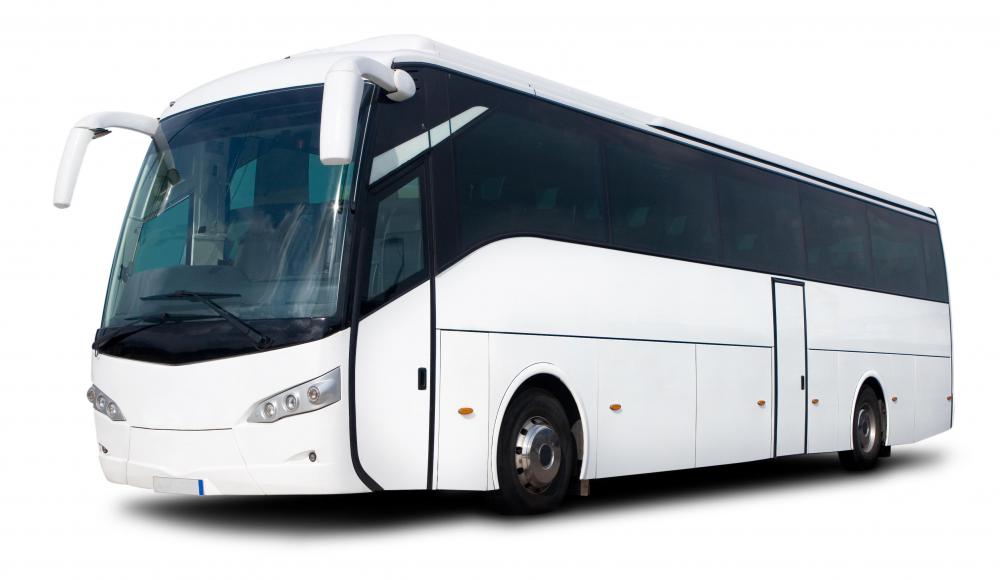 One area that is tantamount to a comfortable trip when you choose the best charter bus is roominess. You may also want to choose a charter bus that offers other options for guest entertainment and comfort, such as on-board movies and refreshments. If you are choosing a charter bus for an extended trip, you may want to select a bus that offers an on-board restroom to avoid discomfort and frequent stops to accommodate guests who need to relieve themselves.
A charter bus is a comfortable option to travel with a large group and can offer an enjoyable atmosphere provided certain creature comforts are available. Even on buses equipped with air conditioning, crowding can make for an uncomfortable experience for your guests. When selecting the best charter bus for your needs, you may wish to choose a slightly larger bus than required to afford extra seating accommodations and room to spread out and relax. If traveling mostly in daylight hours, a bus with larger windows might offer travelers a better opportunity to sight see along the route.
Other accommodations that can make the difference in passenger comfort include on-board movies. The best charter bus choices often include several television monitors along each side of the bus to provide passengers with a way to watch a movie as the bus travels to and from its destinations. Ear buds or head phones are typically offered for the guests who choose to watch the movie, while those who do not wish to partake in the entertainment can travel without the noise and disruption of the movie. Some of the better charter buses also provide individual lighting for those riders who wish to read or work in the darkness of nighttime travel.
Many of the smaller charter bus models provide an intercom that can be used to give sight-seeing tours, play games while traveling as well as to play motivational music or other types of media for travelers. Another key component in choosing the best charter bus for your needs is the driver. You may wish to interview the potential driver to ascertain if the driver's persona will match that of your group. Many charter trips have suffered due to a conflict between the driver and those taking the chartered trip.
Size of the group and necessary features determine what kind of charter bus to select.