How Do I Choose the Best Cereal with Iron?
Many manufacturers offer cereals that are fortified with extra iron in an effort to ensure that kids get enough of this vital nutrient. When you are looking for a cereal with iron, it can be very helpful to read the box first. Important information can include whether the cereal is made from whole grain, how much of the daily serving of iron is provided, and what other nutrients it contains. You can choose a hot or cold cereal, and there are advantages and disadvantages of each. It can also be a good idea to consult a pediatrician before giving iron-fortified cereals to children.
A cereal with iron can contain more fiber and protein if it is made from whole grains. This information is usually listed on the package. Some grains often used to make these cereals include wheat, corn, or oats, or an iron-fortified cereal could contain a combination of these ingredients.
The nutritional information on a box of cereal can give you an idea of how healthy a cereal with iron might be. This food should provide between 20 and 50 percent of the daily serving of iron and calcium. It should also contain around 10 percent of the daily allowance of zinc, Vitamin A, and Vitamin D. The cereal might also include less than 10 percent of the recommended allowance of thiamin, niacin, or riboflavin.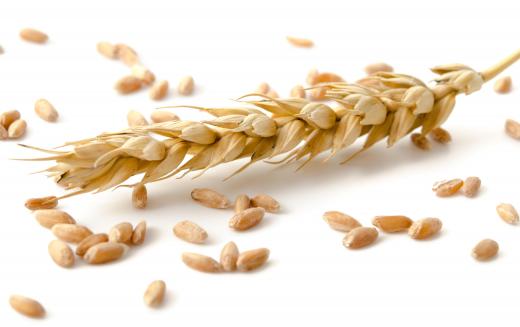 It can be helpful to know if you would like a hot or cold cereal with iron. An advantage to a cold cereal is that is can normally be eaten straight from the box, which often makes it more convenient. A hot cereal may need to be prepared, but one of these iron-fortified cereals is normally low in sugar and does not contain additives or preservatives. Both types can typically be eaten with or without milk, although cold cereals normally taste better when milk is added to them.
If a cereal with iron is to be eaten by children, the right type can depend on age. Infants who are six to 12 months old typically need slightly less iron than older children. Boys over 12 generally need less iron than girls in this same age group. Knowing how much iron to give a child can often be complex. For this reason, it can be a good idea to consult with a pediatrician who can advise you on the right amount of iron for that individual.
AS FEATURED ON:
AS FEATURED ON:

By: Liaurinko

Oats are a type of cereal grass.

By: womue

Cereal made with wheat often contains more iron.

By: Tatyana Gladskih

It's a good idea to check with a pediatrician before giving iron-fortified cereal to children.