How do I Choose the Best Business Seminar?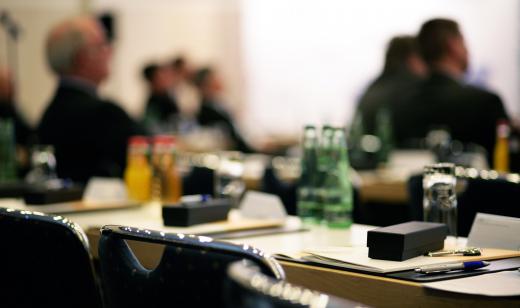 Choosing the best business seminar requires understanding your needs related to subject matter, cost, seminar format, and location. Pinpointing the right seminar topic will be important, and your options might be general topics, such as business management or sales training, or specific ones such as Internet marketing strategies or employee conflict resolution. The ideal seminar leader will be both an expert in his field and skilled in the delivery of information. You might also consider your preferred learning style and the specific tools used to deliver the seminar information.
The most important aspect of choosing the right business seminar is related to subject matter. You will want to define your specific objective and choose accordingly. An interest in becoming a better business manager, for example, might motivate you to seek out a general business management seminar. You might find, however, that you are in need of targeted content, such as how to manage employee conflicts. The more specific you can be in identifying your objective, the easier it will be to choose the most suitable seminar topic.
You will also want to consider the expertise, leadership, and presentation abilities of the seminar presenter. Your ideal choice will be someone who has the right credentials and extensive experience in the seminar topic. His ability to effectively lead a group through exercises and activities will also be important. Some experts are not necessarily effective presenters, so consider speaking to past seminar participants about the quality of their experiences. Reading business seminar reviews online may also be helpful in choosing the right seminar leader.
The best business seminar will appeal to your personal learning style. Assess your learning and interaction needs to choose a seminar format that keeps you mentally and socially engaged. If you find it difficult to sit and listen to information for long hours, you might choose a seminar that is broken up into classes across a set number of days or weeks. For outgoing personalities, an online seminar that requires delivery of information via the Internet only, with little to no interaction with other people, may not be ideal. If you are a visual learner, you might seek out seminars that deliver information using video, photos, and other visual tools.
Practical concerns such as seminar cost, scheduling, and location may also be factors. An ideal business seminar will take place in an accessible location and will accommodate your schedule. Cost concerns can be weighed against overall seminar value. You might pay more for a higher quality business seminar if you are confident that the rewards will be worth the cost in the long run.


By: Peter Atkins

Knowing the expertise of a presenter helps in selecting good business seminars.

By: elen31

The best business seminar will appeal to your personal style.

By: Andres Rodriguez

People might prefer to attend a more informal seminar hosted by a local business leader.