How Do I Choose the Best Bridal Hair Comb?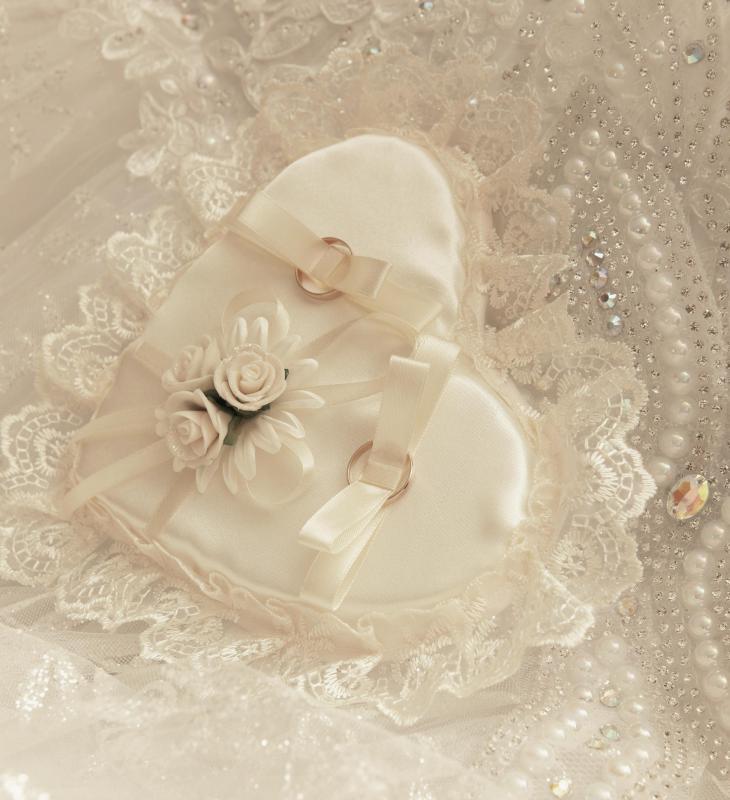 In order to pick the best bridal hair comb, several decisions need to be made, including the size, style, and design of the hair comb. It is also important to choose a comb that matches the style of your wedding dress and that complements the hair style you have chosen for the wedding. Other things to consider are whether or not you would like the hair comb to have an attached veil and whether you want to wear a single hair comb or more than one.
A bridal hair comb can be both decorative and functional. The design of the comb itself allows it to be affixed to the hair to hold the style in place. Since this is such an important, special, and long day, it is probably a good idea to use a hair comb along with another method of securing the hair to keep it in place. For example, bobby pins or hair pins are often used and then the hair comb is placed over the pins to hide them as well as to add a decorative element to the hair.
Knowing how you plan to wear your hair for the wedding will help you choose the right hair combs. Choose combs that will remain visible in your hair once it is styled and that will also complement the hair style. Small hair combs can be worn on opposite sides of the head with the back of the hair pinned up or left loose. One large hair comb can be used with certain up-dos as well as with hair that is worn down.
Choosing a bridal hair comb is best done after the wedding dress has been selected. Knowing the style and embellishments on the dress will help you select a comb that will match the dress in its style and design. For instance, if you've chosen a vintage dress with a pearl bodice, you might want vintage hair combs that have pearl embellishments. On the other hand, if the dress is plain and without adornments, you might prefer hair accessories that have a lot of flair.
Hair combs for a bride come in many sizes and styles, from short to long, straight or curved, and plain to fancy. Rhinestones, pearls, flowers, and feathers are just a few of the embellishments available to choose from. Ribbon is another decorative accent that may appear on a bridal hair comb and can be short or long, cascading from the comb. Bridal hair combs are available in several colors such as white, ivory, and clear and are available in metal or plastic.
Some styles of bridal hair comb have an attached veil. These combs are generally used in lieu of other styles of headpiece and veil, such as the crown or tiara style. When choosing a comb with an attached veil, you will also need to choose the length and color of the veil in addition to any trim you may want. Combs and veils can also be sold separately.
By: tayindigo

Selecting the wedding gown first may make it easier to select coordinating hair comb.

By: puhhha

Bridal hair combs may be purchased in hair salons.

By: Ivan Nakonechnyy

Bridal hair combs should match the style of the wedding dress.