How do I Choose the Best Bookkeeping Classes?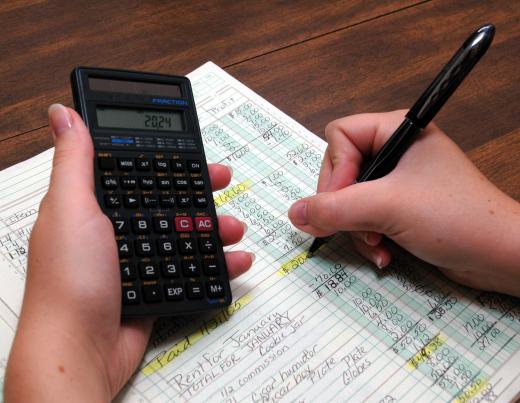 There are four things to consider when looking for the best bookkeeping classes: small class size, qualified instructors, accreditation, and hands-on learning. Bookkeeping classes are available from community and career colleges. A bookkeeper is responsible for maintaining a small to medium company's financial records, running financial reports, and assisting with the decision making process.
Bookkeeping classes combine theory and practical applications. The lower the number of students in the class, the more individual attention the instructor can provide to each student. It is important to grasp both the accounting theory and the recommended procedures. All bookkeeping procedures are designed to ensure compliance with accounting rules and standards.
Bookkeeping classes should be taught by qualified instructors. For example, computer software classes should be taught by an experienced software instructor. Almost all bookkeeping jobs are reliant on computer software packages and technology. Proper training ensures the graduates are able to use all the features of the tool, maximizing the value for the company.
When choosing the best bookkeeping classes, it is important to ensure that the school is accredited. An accredited school has been reviewed by an independent agency to ensure minimum standards are met. In addition, only courses from an accredited school can be used toward a bookkeeping certificate. If you decide to take an online program, verify the status of the school independently, to make sure that it is valid.
Inspect the computer classrooms or labs to ensure that there is one computer workstation per student. Check the software version to make sure it is the latest one. Ask about after-hours access to the computer resources to complete homework assignments. A bookkeeper position is a task-oriented job, and it is important to have enough opportunity to practice using the latest accounting software before graduation.
It is very important to ask the admissions counselor about the teaching style. Lecture based programs are a good way to teach theory, but hand-on is the best method for learning practical skills. A bookkeeper is responsible for processing all the accounting transactions for the business. Working with the software increases your level of skill and comfort, both of which are important to potential employers.
People who complete bookkeeping classes often return to school to upgrade their skills, an average of five to seven years after graduation. Some bookkeepers complete additional courses in payroll accounting, inventory systems, or upgrade their computer skills. Other people decide to build on their bookkeeping training and become accountants.


By: Danny Hooks

A bookkeeper reviewing a ledger.

By: auremar

A bookkeeper at his desk.