How Do I Choose the Best Blemish Concealer?
When choosing the best blemish concealer, it is important to find a shade that matches your skin tone as closely as possible, even if you're using a color neutralizing concealer. Test the blemish concealer on the back of your hand to determine the consistency of the product. Then, look at the ingredients to make sure that the concealer is water-based rather than oil-based; the latter may cover up the blemish, but it could make it worse. If possible, try to look for a concealer with acne-fighting ingredients so that you can both cover and treat the problem at the same time.
Many women make the mistake of using a concealer that is either too light or too dark for their skin tone. While this technique may work on other areas of the face, the most important part of choosing a blemish concealer is finding one that will not draw attention to the blemish. This is best achieved by picking a product that matches your skin color.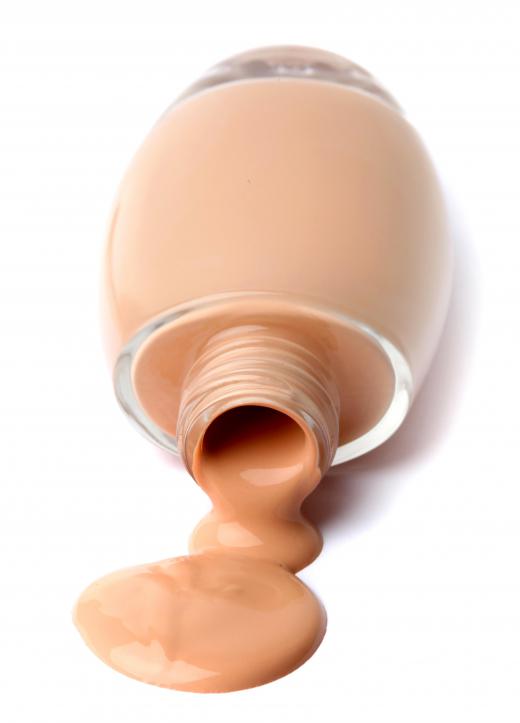 Even if you are looking for a neutralizing concealer, the base color of the product should still match your skin tone. The easiest way to find this is to pick a concealer palette that includes a shade perfect for your complexion as well as additional color neutralizing options; these tend to have the same base color as the concealer that matches your skin with correcting colors added in. For a blemish concealer, look for a shade that has a slight green tone to it. This will cancel out redness, making for an excellent blemish concealer.
One of the most important aspects of picking an acne concealer is choosing a product that is easy to blend. Something too dry or too aqueous can end up making the area around the blemish look different from the rest of your face, drawing attention to the spot. A good concealer will be thick, yet easy to work with. Try putting a little bit of the product on the back of your hand and work it into your skin; this will give you a good idea of how easy the concealer will be to work with.
When picking a blemish concealer, it is important to choose a product that will not make the spot even worse. Many concealers are oil-based, which can clog pores and increase the severity and frequency of breakouts. By using a water-based concealer, you will limit the chances of this happening. It can also be helpful to pick a product that has salicylic acid or benzyl peroxide in it. These ingredients help to clear up existing spots and reduce the frequency of breakouts, making for a multi-functional blemish concealer.
AS FEATURED ON:
AS FEATURED ON:

By: cedrov

Blemish concealer.

By: Cheryl Casey

Blemish concealer should match skin tone.