How do I Choose the Best Bee Pollen Granules?
Bee pollen is often promoted to be a preventive therapy and cure-all remedy for many ailments and a sure-fire vitality booster. Little scientific research supports these claims, but the substance appears to be mostly harmless, except for people who are allergic to bee stings, and it does a have a clear nutritional value. For those who wish to take it as a supplement, it comes in powder, pill, liquid and granule forms. Bee pollen granules are said to be best because bees make them to feed their colonies. The best bee pollen granules contain a combination of different pollen from areas unaffected by pollution, agricultural pesticides or herbicides.
When bees collect pollen, they use nectar from the flowers and honey from their honey sacs to bind the pollen together into granules. They return the granules to their hives, where they add an enzyme from their stomachs to make it easy to metabolize. The granules are then added to the hives' food supply.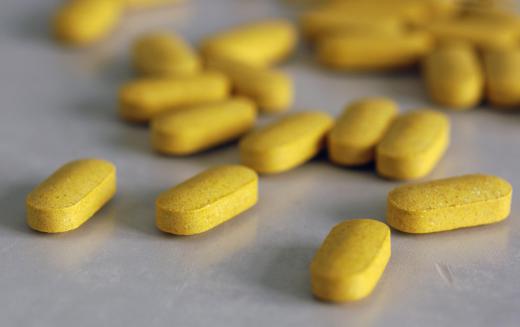 The best bee pollen granules are said to be those that have a wide range of colors. This indicates that the pollen has come from multiple plant sources, which improves the granules' nutrient value. It's also important to know as much as possible about the source of the pollen. Areas free of pollution and away from agricultural operations that use pesticides and herbicides will provide much healthier bee pollen granules.
The nutritional claims for bee pollen granules are considered legitimate. They are a complete food that is very high in protein and carbohydrates in the form of fructose and glucose sugars. Bee pollen granules contain a wide range of minerals and vitamins essential for good metabolism, including calcium and the B vitamins, and they are low in fat.
Claims for health benefits of bee pollen granules are varied. These include claims that they can treat allergies and alcoholism, diabetes and cancer. Despite a lack of good research to back these claims, many people who use natural health supplements are adamant about their curative and disease-prevention properties.
The only real danger in taking them would be if a person has an allergy to bee stings. Bee pollen granules could cause the same kind of allergic reaction that he or she would experience if stung by a bee. Traditional medical literature indicates that people who cannot tolerate honey or who are allergic to ragweed and chrysanthemums should avoid ingesting bee pollen. There are also some reports of people experiencing side effects that can include diarrhea, asthma attacks and headaches.
AS FEATURED ON:
AS FEATURED ON:

By: Anthony Hall

Bee pollen can be consumed in pill form.

By: kmiragaya

Some claim bee pollen granules can be used to treat alcoholism.

By: inesbazdar

Bee pollen may benefit allergy sufferers.

By: marcel

The best bee pollen supposedly has a wide range of colors.

By: FedeCandoniPhoto

Bee pollen granules may help desensitize some people to the allergens in their environment.