How do I Choose the Best Backyard Fire Pit?
The multitude of fire pits available can make it difficult to select the best one. The first detail you should consider is whether you want to use natural gas, propane, or wood to produce the fire. You should also think about the space you have available, taking both width and height of the backyard fire pit into consideration before you buy. Additionally, consider the material that it is made of, keeping in mind that metal often looks modern, while clay or brick can provide a more traditional appearance.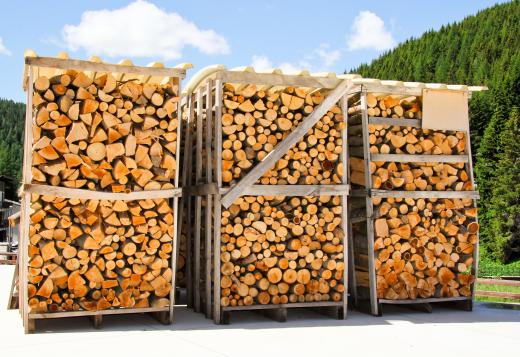 One of the most common types of fire pits is the wood burning kind, as this is considered traditional. This type of backyard fire pit can be used to either provide warmth or to roast food, though you should realize that its drawbacks include needing firewood and leaving behind ash. If you do not want to clean up after each fire, a propane gas pit may suit you, though it requires you to occasionally fill a propane tank. If you already have a natural gas line in your yard, you can put it to good use with a backyard fire pit that is fueled by this resource, allowing you to start a fire without buying wood or propane.
Another consideration to make is size, as the fire pits available range greatly in both width and height. Make sure that your patio is large enough to fit the backyard fire pit that you want, while also considering the number of people likely to be around it at one time. If you have a lot of space, but no patio table, you can purchase a pit that includes a small counter around it so that visitors can keep snacks and drinks nearby. Additionally, when determining the best height of your backyard fire pit, you should consider the seating that you have. Benches and chairs with short legs are best paired with a fire pit near the ground, while bar stools usually need a taller fire pit.
If you are attempting to keep the atmosphere natural, you should consider a fire pit made out of clay or brick, as these provide an earthy appearance. You may also choose a chimenea, which is a ceramic pit that includes a rounded bottom and a long, thin stovepipe to keep the smoke out of your eyes. If you want a pit that looks a bit more modern, you should consider one made of metal. You can typically choose from stainless steel, cast iron, and copper, most of which are either black or brown.


By: Harris Shiffman

An in-ground fire pit.

By: erikazanier

Access to firewood is important for owners of a wood burning fire pit.

By: Rony Zmiri

For a pit that looks a bit more modern, consider one made of metal.