How Do I Choose the Best Antiseptic Soap?
Nearly all soaps contain antiseptic ingredients of some type, so you don't have to choose a specific antiseptic soap to kill germs and prevent the spread of illness. An antiseptic is any substance that prevents bacteria and other illness-causing organisms from remaining and growing on the skin. Washing your hands with any type of soap helps remove those organisms, as long as you are using proper hand-washing technique. There may be times, however, that you want an antiseptic soap with antibacterial ingredients, and choosing the best one depends mostly on how sensitive you are to those ingredients.
A few common antibacterial ingredients may be used when making an antiseptic soap, and each one has different benefits and drawbacks. Natural soaps typically contain essential oils, which are antiseptic in nature. The most common type is tea tree oil. Not only is tea tree oil considered one of the best natural antibacterial agents based on several major scientific studies, but it is also safe for use on most skin types. Tea tree oil can be irritating to your skin if used in too high of concentrations or too often, so use it only as recommended.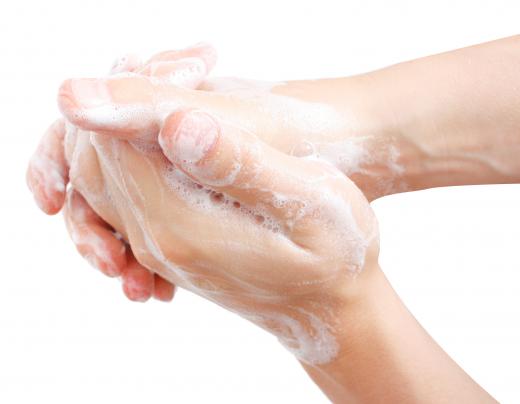 Alcohol, usually in ethanol or propanol form, is another common ingredient used in antiseptic soap. Alcohol can be very drying to your skin as it tends to strip away your natural oils. If you do choose an alcohol-based soap, be sure to follow up with moisturizer as often as possible to help keep your skin soft. Avoid using alcohol-based products on broken skin, such as cuts or scrapes, because it can cause a burning or stinging sensation.
Triclosan, a type of pesticide, is also widely used in antiseptic soaps and many other health and hygiene products. Concerns have been raised regarding its overall safety, and several animal-based studies determined that the ingredient may interfere with hormone regulation. Further studies are being conducted to determine if the ingredient poses a safety risk in humans.
When choosing an antiseptic soap, be sure to look at the other ingredients. If you have sensitive skin, the antibacterial ingredients may already cause some irritation, so it is a good idea to avoid soaps with extra fragrances and artificial dyes when possible. Inactive ingredients are just as important as the active ingredients, especially if you have allergies to certain ingredients.
Many researchers believe that overuse of antiseptic soap can lead to more antibiotic-resistant strains of bacteria. While there are times when using antibacterial soaps may be beneficial, such as when coming into contact with those suffering from a disease that compromises their immune system, simply washing hands with any type of soap and hot water is usually enough to get rid of germs. If you do use antiseptic soap, use it sparingly and only when necessary.
AS FEATURED ON:
AS FEATURED ON:

By: Lasse Kristensen

Washing hands with any type of soap and hot water is usually sufficient to get rid of most germs.

By: picsfive

Antiseptic soap can often be found in liquid form.

By: Stokaji

Natural soaps typically contain essential oils, which have antiseptic properties.

By: Lsantilli

Overuse of antibacterial soaps may lead to antibiotic-resistant strains of bacteria.