How do I Choose the Appropriate Knitting Needle Size?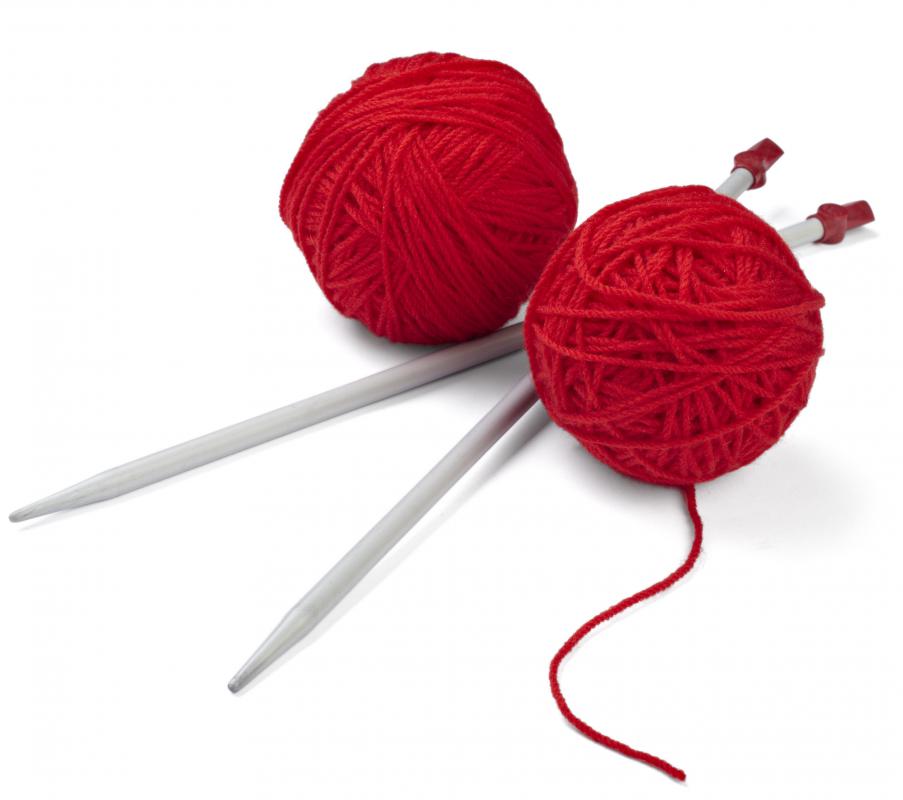 Since different knitters can use the same size needle and yarn weight, yet come up with knitted pieces of different sizes, going by the materials lists on project patterns isn't enough. The approximate knitting needle size is often only one or two numbers higher or lower than what the pattern suggests, depending on how loosely or tightly you hold the yarn as well as the yarn's thickness. Most knitting patterns suggest a knitting needle size, but also specify that knitters should use the type that will allow them to "knit to gauge."
"Knit to gauge" means to have the same number of stitches and rows as the pattern specifies that a 4 inch (10.16 cm) square should end up being. For instance, a sweater knitting pattern may specify something like "Size 8 needles or those needed to obtain the gauge of 4 x 4 inches (10.16 x 10.16 cm) that equals 7 stitches and 5 rows in stockinette stitch" (alternated knit and purl rows). You could first try the suggested needle size casting on 7 stitches and knitting for 5 rows. If you find your gauge swatch smaller than needed, you could then use a size larger needle. If instead your square is larger than 4 x 4 inches (10.16 x 10.16 cm), then you'll need to try knitting needles in a size smaller.
Even if you have to knit several gauge swatches for each project before starting, it usually doesn't take long to make them. You can also make use of the different colored and textured sample squares from all of your projects by saving them up. When you have a good number, you can sew them together to make all types of colorful projects, such as place mats, a table runner, tea cozy or afghan.
The reason it's not always easy to get the pattern gauge with the suggested knitting needle size is that knitters use different tensions. Some people like to keep a taut grip on the yarn; this results in tighter stitches and rows so the resulting piece may be smaller than the suggested gauge swatch size. People who tend to knit loosely will often produce the exact opposite effect — a gauge swatch larger than the suggested size.
A crucial thing to know when considering knitting needle size is that there are three different, but common, numbering systems. Depending on where the knitting pattern you're reading originates, the "size 8" needle it suggests may not correspond with that number in your country. For instance, an American size 8 knitting needle is also 5 mm where the metric system is used. The American size 8 and the metric 5 mm is also called a British size 5 in the United Kingdom.
Knitting needles and yarn.

Different sized knitting needles will produce a different number of stitches per inch.

In general, the ideal size of knitting needles depends upon which type of yarn is used.

Smaller needles might be better for more complicated projects.