How do I Choose a Comfortable Underwire Bra?
Many women choose an underwire bra because it feels more supportive and therefore more comfortable than one that comes without the added support. While it may seem that all underwire bras are created equal, each one should instead be purchased with careful consideration to its fit, look, feel and durability. Taking the time to consider each aspect of the bra can result in a more beautiful and comfortable product.
If you haven't been measured for a bra in awhile, it's vital to do so before purchasing the next underwire bra. Although it's possible to do the measuring at home, being even slightly off in the numbers can result in a bunchy and uncomfortable bra. Many department stores offer the service and have a professional bra fitting consultant who is skilled in bra fittings to provide a more reliable measurement.
One of the most important aspects of choosing an underwire bra is to find one that has the right cut and style. There are many different styles and cuts, including plunge, full figure, demi, convertible, minimizing and molded. Doing research beforehand as well as discussing it with the bra fitting consultant can help to buy the right bra for day-to-day wear or for a special occasion.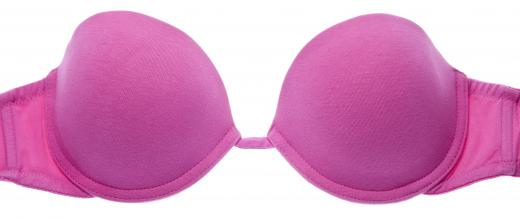 A woman should feel good about the bra she's wearing and part of that is considering the fabric and design of the underwire bra. Bras are made of different types of fabric, including cotton and satin, so before picking one, finger the fabric to see if it is something that seems as though it would feel comfortable. The design should also be visually appealing, so choose one that has a full pattern or one that has embellishments on it, such as a small bow in the center.
Checking the seams is also incredibly important when choosing an underwire bra. They must be strong to prevent the underwire from popping out, so pay special attention to the quality of the seams near the underarm and near the cleavage area. If the underwire pops out, not only could it be embarrassing if seen, but it can also feel uncomfortable and even cause a cut.
Before purchasing the underwire bra, it is strongly advised to try it on if possible. This can give an idea of the comfort level and fit of the item, especially for bras that aren't returnable. Trying it on can help ensure that the bra is everything it's supposed to be, from the fit to the look.
AS FEATURED ON:
AS FEATURED ON:

By: Graça Victoria

A beige underwire bra.

By: Brooke Becker

A strapless underwire bra.

By: Africa Studio

A demi-bra is useful for low cut shirts.