How Do I Change from Blond to Brunette?
Changing from blond to brunette is a striking appearance transformation that will certainly turn heads. Many hair color products are available at local retail stores, from simple highlights to complete hair color dyes. By contrast, you can visit a salon for a professional dye job to change from blond to brunette. This drastic change in hair color must be considered carefully before deciding on a brunette shade.
Many hair experts agree that changing from blond to brunette should be managed by a professional salon stylist. The stylist can evaluate your skin tone and eye color in comparison with the desired brunette shade. An extremely pale skin tone might not be complemented by a dark brunette shade. A professional might decide to dye the hair a lighter brunette shade so that the person's facial features will not appear to be too pale.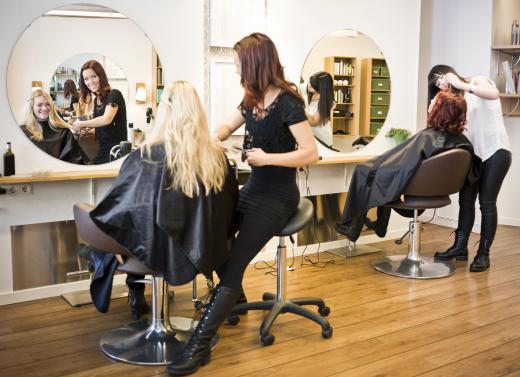 Changes from blond to brunette can be done at home with a boxed dye package, but the color change should be a gradual process. Choose a light brunette shade for the first dyeing process. Subsequent hair color dyes can be progressively darker, as desired. This systematic color change allows you to progress to darker shades or stop at a medium or light brunette shade when the desired color has been reached.
A more subtle change from blond to brunette is the use of highlights. Highlights create the appearance of depth and texture within the hair structure. A person with blond hair can add light to medium brunette highlights at a salon. Future highlighting salon visits can entail adding more highlights until the majority of the hair is brunette.
Hair dye loses its rich color over time. The new hair color must be maintained with shampoos and conditioners that have been specifically designed for color preservation. Even highlights require care; many shampoo and conditioner manufacturers have created products that are aimed at highlight enhancement and care.
People who have newly dyed blond hair should pay attention to their clothing and, if applicable, their makeup choices. Someone who has medium to dark brunette hair is complemented by dark clothing and makeup. A person who had blond hair might still want to dress in summery colors, such as yellow, but a person with brunette hair typically is not enhanced by these color choices.
If you want to change from blond to brunette hair, ask your stylist, friends and family members about their thoughts on the drastic color change. A helpful way of envisioning the color change is visiting a wig store, where you can try on various wig colors. Your friends and family members can give their honest opinions about shades and styles.


By: millaf

Many hair color products are available at local retail stores.

By: Brian Jackson

A person can experiment with hair color and styles by trying on various wigs.

By: gemenacom

A person wanting to go from blonde to brunette should seek a professional salon stylist.

By: Valua Vitaly

Ideally, dark hair should be no more than two shades darker than the natural hair color.