How Do I Become an IT Security Specialist?
To become an Information Technology (IT) security specialist, you should typically have a strong educational background in computer science and programming with a focus on security. A bachelor's degree is often preferred for this type of position, though an associate's degree may be sufficient, and additional certification in computer security is often desired by employers. You must also have a general understanding of different networking applications and security procedures. Many employers also look for previous experience, so you might try to find opportunities to gain professional experience in IT or risk management to become an IT security specialist.
One of the first things you should do to become an IT security specialist is gain the education and training looked for by potential employers. You can typically begin by acquiring either an associate's or bachelor's degree in computer science, and try to take courses in information security whenever possible. There are some schools that offer higher level degrees, such as a master's degree, though this is typically needed only by people interested in performing research or working in management at major corporations or government positions.
As you complete your degree, you should look for opportunities to demonstrate further knowledge and specialization in information security to help you become an IT security specialist. Some organizations and schools may offer special certification in information security, which you can use to build upon your education. These may be offered by companies that specialize in networking applications, as well as professional organizations established for those interested in working in information security.
Once you have the education and training you need to become an IT security specialist, then you should look for opportunities to gain professional experience. This may require that you first work in a more general IT capacity, such as developing your skills while setting up and administrating networks for various businesses. These positions can often provide you with opportunities to move into security at a company, or to demonstrate your understanding of various IT security issues and concepts.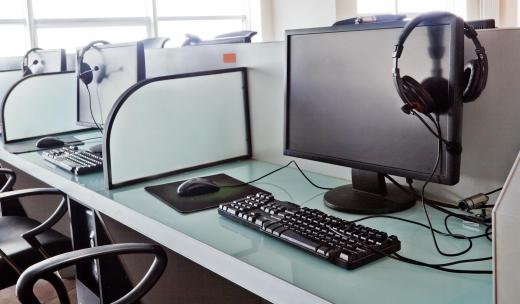 Since IT security specialists are so closely involved with the safety of networks and potentially sensitive internal information, you should expect to have a background check performed on you prior to hiring. If you want to become an IT security specialist in a government or military position, then these requirements may be even higher. Your communication skills should also be excellent, since you typically need to be able to talk with managers and corporate officers, as well as other employees, to ensure that security issues are resolved successfully.
AS FEATURED ON:
AS FEATURED ON:

By: Artur Marciniec

It security specialists may test software for vulnerabilities.

By: diego cervo

An information technology (IT) security specialist is often responsible for ensuring that employees manage their passwords properly.

By: 06photo

IT security specialists might work with companies to ensure that networks are secure.

By: chungking

IT security specialists often consult railroads, power plants, and other businesses that employ complex control systems that are targeted by hackers.