How do I Become an Equine Veterinarian?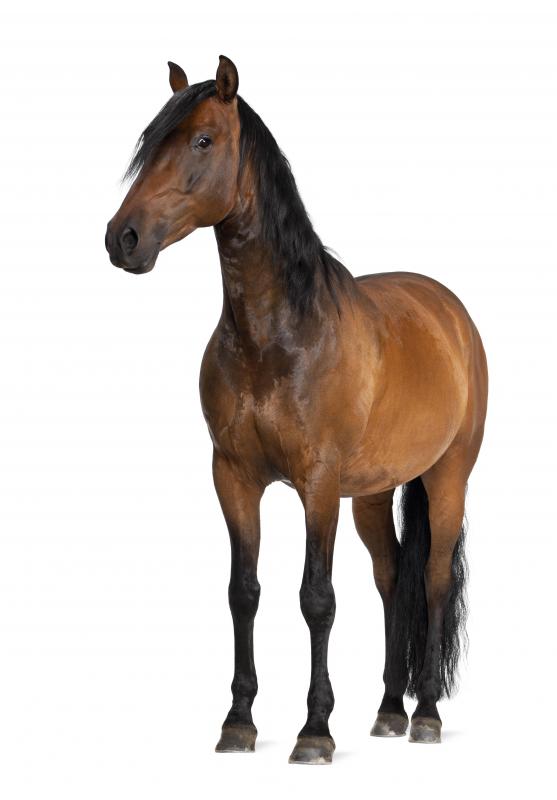 An equine veterinarian is a Doctor of Veterinary Medicine (DVM) that specializes in the healthcare of equines. Equine applies primarily to horses and ponies; however, donkeys, mules and zebras are also from the Equidae family. Most veterinarians specialize in either small or large animals. Some specifically choose equine medicine after completing their basic DVM requirements while others fall into being an equine veterinarian based on their location and customer base.
Most countries have similar programs for obtaining your DVM license. In the United States, a bachelor's degree is a prerequisite for applying for the DVM program. It is advantageous to receive your bachelor's degree in the sciences. At that point, a candidate can apply to an accredited school to begin the DVM curriculum. This program can be completed in four years. Admission to veterinary school includes passing a graduate admissions test. Depending on the school requirements, this test can be a Graduate Record Examination (GRE), Veterinary College Admission Test (VCAT) or Medical College Admission Test (MCAT).
The first three years involve the DVM core courses, along with elective classes that pertain to equine veterinary medicine or the field of specialty you wish to pursue. Core classes include a full range of topics that involve the pathology of diseases, prevention, alleviation and clinical therapy. This program also includes veterinary ethics and law.
The fourth year of your DVM curriculum is the critical point when you specialize in becoming an equine veterinarian. This is the time when you focus on clinical rotations directed at equine veterinarian research and clinical. Some candidates will simply pursue large animal specialties that will include equine medicine rather than get more specific at that stage of their education. Others, who are certain of their goals, will direct all their studies into equine medicine from this point on. Once this phase is completed, national and state exams must be passed in order to obtain a license from the state in which you wish to practice.
Equine veterinarian candidates take advantage of externships, internships, and residencies that are available at equine research colleges, veterinary clinics specializing in equines, specialty barns, show circuits, therapeutic equestrian centers and rescue facilities. These options are also strongly encouraged for summer fieldwork. Most facilities welcome students.
This rotational opportunity allows the student to observe and apply practices involving testing, vaccinating, breeding and foaling, diet, stable and pasture management. There are times when it is necessary to euthanize a horse as well. The focus of an equine veterinarian is preventive care. This includes diseases as well as injuries. These clinical rotations allow the student to develop professional and practical skills for becoming an equine veterinarian.
Once you have completed all requirements in becoming an equine veterinarian and received your license to begin practice, you have the opportunity to become board certified. There is a modest number of board certified equine veterinarians. This advanced education training is highly recognized by the American Veterinary Medical Association (AVMA). This recognition is awarded in an advanced diploma known as a "diplomate." Requirements include an additional three-year residency program whereby they must meet specific training and research criteria. At that point, a rigorous examination must be passed in order to earn the title of Diplomate of the American College of Veterinary Surgeons (ACVS).
By: Eric Isselée

Some veterinarians choose to specialize in horse care.

By: Duncan Noakes

An equine veterinarian might treat zebras.

By: Norman Nick

Equine veterinarians may provide medical care for donkeys.

By: Monkey Business

An equine veterinarian primarily treats horses and ponies.

By: Alexia Khruscheva

Horse-related sports facilities, such as horse racing and steeplechase courses, often hire vet techs and veterinarians to be on staff in case of injuries.