How do I Become an Editor?
There are many different types of editor in the world, from editors of film to editors of music to editors at large in magazines. When most people talk about becoming an editor, however, they are speaking of one of two types of editor: a copy editor or a book editor. Both are interesting jobs that bring a person in contact with writers regularly, and allow them to become an integral part of the publishing process. The path to become an editor is somewhat different for each, however, with book editors combining a number of roles into a single job.
A copy editor is a person who focuses on the copy — any sort of written material intended for publication, be it a book, a magazine article, or a short article for an online website. Copy editors are focused primarily on the nuts and bolts of a piece of writing, with the actual content being left to a so-called substantive editor or an editor-in-chief. The copy editor's job is to make sure the style of the copy is suitable for the publication, that it remains consistent throughout, that there are no grammatical, typographical, or punctuation errors in the text, and that the facts given are accurate.
Many people go to a university to pursue a degree in English in order to become an editor, and many employers are looking for just such a degree. A broad knowledge base is also very useful to a copy editor, and so reading widely and studying an array of subjects can help someone interested in this job, allowing them to be able to easily recognize factual defects in a text. While at school, working for student publications can offer a first glimpse into the work of a copy editor, as well as giving an important byline for later job résumés. Editors also need certain concrete skills, and copy editing classes can give these, including techniques on reading copy for error-checking rather than content and the set of notation used in copy editing.
After school, a prospective editor needs to decide whether he or she wants to work in-house at a publishing company or as a freelancer for a number of different publications. As a freelancer, editors have a number of opportunities to work on small jobs for lower wages while building up a byline. Pursuing a job at a larger publishing house is a bit more difficult, however, and is often best accomplished by first becoming an editorial assistant at the publication you're interested in working for, getting to know the staff, and having a chance to prove your work ethic before applying for a vacancy as a copy editor.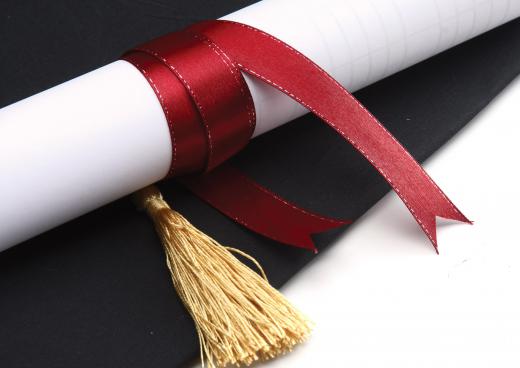 Many people, when they talk about wanting to become an editor, are referring to becoming a book editor. This is a position that tends to be found at smaller publishing houses, and it rolls a number of different editorial roles into one. Book editors not only do copy editing, but also handle production editing and substantive editing, helping to guide and shape the entire feel of a project, not just the technical execution of it. People who want to be this type of editor often first start as a copy editor and then work their way up the ladder, acquiring a wider range of skills and becoming familiar with the ins and outs of the book or magazine trade, eventually taking on the larger role.
AS FEATURED ON:
AS FEATURED ON:

By: bertys30

To become an editor, knowledge of word processing software is a necessity.

By: Igor Mojzes

Editors need to love to read, as they will do plenty of it.

By: lenets_tan

A degree in English can help someone become an editor.

By: serkucher

A music editor may be responsible for listening to musical compositions and writing reviews on them.

By: Pixsooz

Editors need a firm understanding of writing grammar rules.

By: zefart

Editors usually serve as the final step prior to publication.