How do I Become an Architect Associate? (with pictures)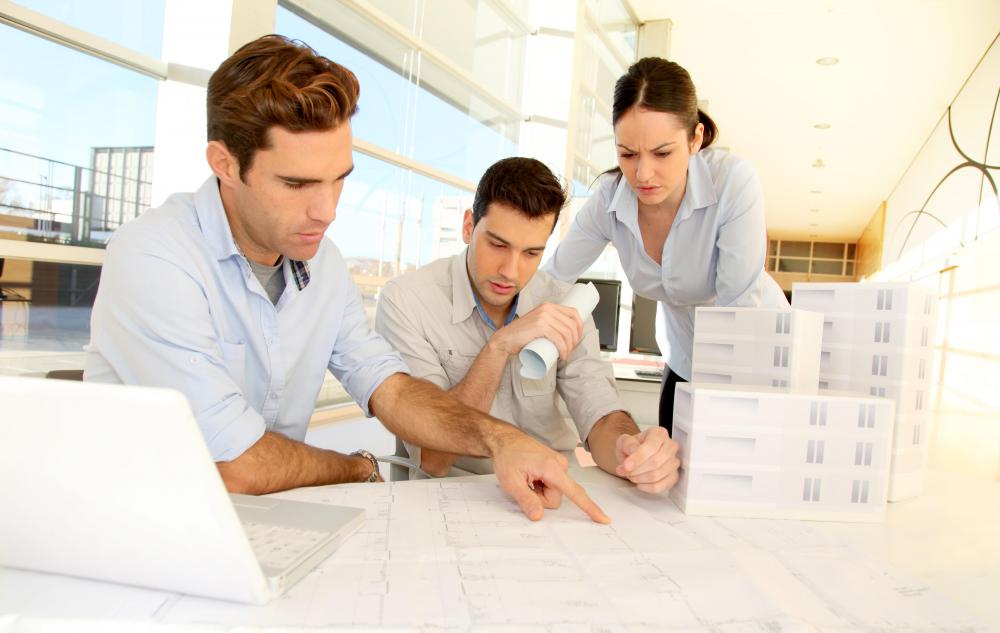 An architect associate is a licensed architect who shares a temporary work agreement with another architect. In this instance, the main goal of this relationship is to complete a scheduled project through collaboration. In order to become an architect associate, you must first gain all the necessary skills and training to become a licensed architect.
High school students who aim to become architects should focus upon math and science courses in addition to general courses. This task can be accomplished by meeting with a high school guidance counselor. Since a large portion of architecture is math-based, an excellent grasp on complicated mathematical equations is necessary. Following high school, successful graduates should apply to colleges that have strong architecture programs.
There are a number of choices when it comes to selecting a college level architecture program. Some schools offer five-year bachelor's programs, while other schools may offer two-year programs. Two-year college programs are generally followed by a two-year Master of Architecture degree. Either program will help an individual to become an architect associate, though it is essential that all programs are recognized and accredited.
While attending an architecture program at the college level, students should also apply for part-time jobs within architecture firms. This will help college graduates to secure a position within an architecture firm following graduation. Most firms hire recently graduated architects that already have work experience. Once a graduate passes necessary government examinations, there are certain steps that can be taken in order to become an architect associate.
Often, architect associates work with other architects outside of a particular company. This type of relationship tends to be an independent one, though it is possible for one company to hire a contractual architect to work with a staff architect. If an architecture firm requires the assistance of a specialized architect, an associate architect may be retained. Therefore, the best way to become an architect associate is to find a unique niche.
As with most other professions, architects that are highly sought after tend to be those that have specialized knowledge. The architecture field is extremely competitive, though those people who stand out within the field often secure well-paid positions. Therefore, specialization within this profession is crucial. Only those architects who excel within the field are chosen to become associates.
Generally, to become an architect associate, one must have many years of experience as an architect. This is precisely why it is important for current architecture students to acquire internship positions while still in school. Architecture is one profession that rewards those professionals who have spent a great deal of time studying all the ins and outs of architecture.
An architecture firm may hire an architect with a specialty, so it's a good idea to find a niche.

Aspiring architect associates should apply for a college or graduate internship at an architecture firm.

Architect associates often work with other architects outside of their given companies.

Becoming an architect requires a strong background in mathematics.

Previous architecture experience is often expected of architect associates.