How do I Become an Algebra Teacher?
The person who plans to become an algebra teacher needs to understand that it's likely he or she will teach more than algebra. Whether at the college or high school/junior high level, there are more math subjects than just algebra taught. People who set out to become an algebra teacher are math teachers first, and may not always have a choice in what classes they're assigned to teach. There are ways of specializing, like becoming a tutor of algebra or teaching private algebra classes, but most people in this field are generally skilled at many areas of math and can teach them easily.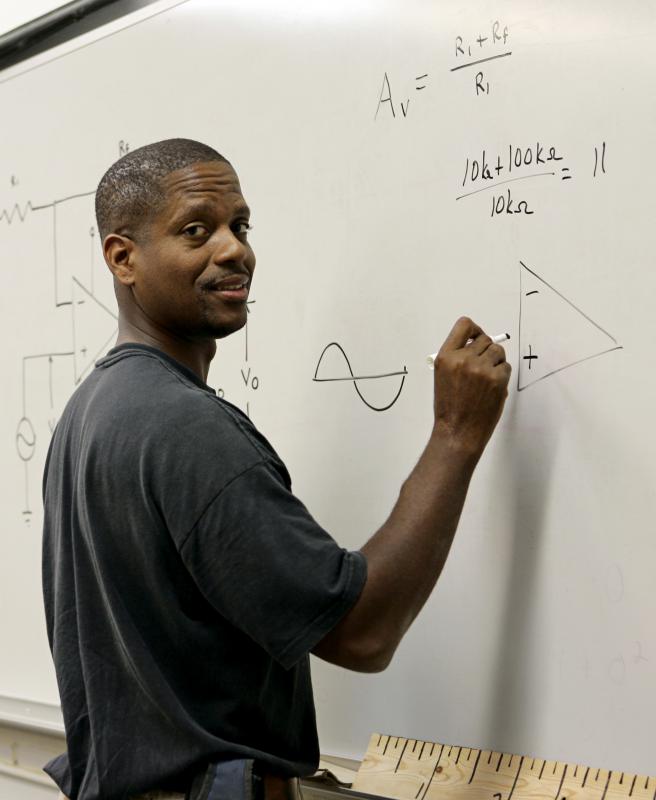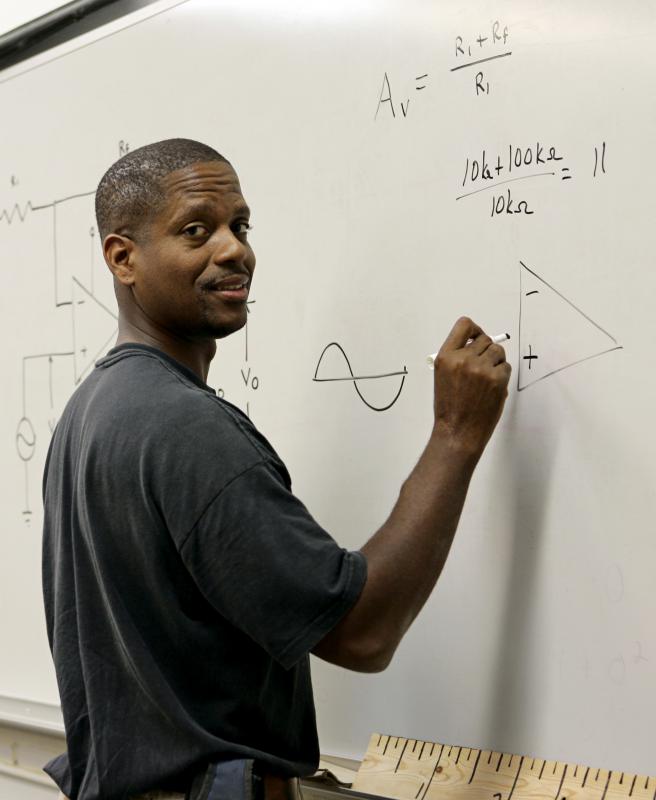 There are two or three potential forks in the road for people who want to become an algebra teacher. They can teach at the college level, community college level or high school and middle school level. Each of these represents a different level of education but all of them start within high school by getting very good grades in math. When possible, students should try to reach calculus at the high school level and more importantly, they should attempt to take and pass advanced placement trigonometry and calculus. When this doesn't occur, these classes can still be taken at the college level, but earning college credits for these earlier helps jump start studies in a math major.
The person interested in secondary school teaching will major in mathematics, and they'll study more advanced expressions of subjects like geometry and different forms of algebra. They may also study statistics, and a variety of other advanced topics that add to mathematical skills. Depending on the school and region, completion of a bachelor's degree in mathematics may lead to automatic credentialing to teach secondary school. Alternately, the person wishing to become an algebra teacher may have to pursue an additional credential program before being able to teach.
Someone who would like to become an algebra teacher at the community college level takes a slightly different path. After obtaining a bachelor's degree, this student applies to and is accepted to a master's program in mathematics. Upon completion of it, they may teach at most two-year schools, and sometimes they get a credential and teach at high schools. They will teach many more subjects at the community college level, including those extending beyond Calculus, whereas the high school teacher rarely focuses on more than pre-algebra, algebra I and II, geometry, trigonometry and Calculus.
Four year colleges and colleges with graduate departments look for teachers with a doctorate, and some community colleges that are competitive also demand this. Those who want to become an algebra teacher at a four-year university or one with a graduate school will definitely have to have a PhD. It is likely that fewer basic algebra classes are taught at this level, though there may be remedial ones on some campuses. Instead, these teachers may more often teach much more complicated math topics.
Algebra teachers are usually skilled at many areas of math.

An algebra teacher may teach at the college, community college, high school or middle school levels.

Teaching math at colleges or universities often requires a doctorate degree.

Algebra instruction typically begins with an introductory class, sometimes called pre algebra, in middle school.

An individual interested in becoming an algebra teacher at the community college level must be willing to teach courses such as geometry and trigonometry as well.