How Do I Become an Able Seaman?
An able seaman is an experienced crewmember of a commercial or government owned marine vessel. To become an able seaman, a crew member must first spend some time working as a junior deckhand. Additionally, laws in some countries require prospective able seamen to pass a written and practical examination.
Generally, someone wishing to become an able seaman must have reached legal adulthood and have the ability to pass a basic physical examination. Seamen and other deckhands are responsible for operating above deck equipment such as anchors, lifeboat pulleys and various types of machinery. Therefore, due to the physical nature of the job, employers typically reject applications from individuals who have physical disabilities or health problems. In most instances, a junior deckhand must complete a certain number of days at sea before applying to become an able seaman position.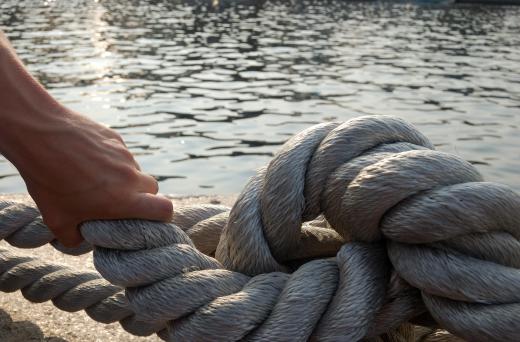 Commercial boat operators normally require candidates for these positions to have successfully passed first aid training classes. Additionally, many companies send experienced deckhands to safety training classes in which they are taught how to deal with on-board fires, equipment breakdowns and other types of calamities. Those wishing to become an able seaman must successfully pass these safety related classes.
In many countries, able seamen have obtained maritime licenses. These individuals must pass written examinations that are administered by regulatory authorities. The exams test the applicant's knowledge of maritime law, boats operating procedures and health and safety issues. Generally, someone wishing to become an able seaman must pay an application fee prior to taking the exam. Successful candidates receive a certificate of completion or license that remains active for a certain period of time.
Aside from commercial operators, some are employed by the military or other government divisions. Individuals filling these roles normally have to undergo basic military training which can last for several months. Thereafter, anyone wishing to become an able seaman must complete a set number of hours working as a junior crewmember before being recommended for promotion. As with commercial seamen, these individuals typically have to pass both a written and practical examination to test their knowledge of the ship's equipment and maritime rules.
While many able seamen are high school leavers who join boat crews in entry-level positions, some colleges offer non-degree vocational courses that prepare individuals to become seamen. These courses consist of classroom-based lectures and practical training aboard small maritime vessels. In some instances, these courses are designed to prepare people to work for the navy or coast guard.


By: Wimbledon

An able seaman must be able to help deploy lifeboats and use other types of rescue or fire control equipment.

By: inigoht

Deckhands learn various seafaring skills.

The Coast Guard provides some rules on how many able seamen are required aboard ships.