How do I Become a Software Test Engineer?
Software test engineers test code, programs and operating systems for bugs and problems. To become a software test engineer, you normally must have at least a four-year degree in software engineering, computer science, electrical engineering, computer information systems or a related area. A master's degree sometimes is preferred by employers, but there are some employers who will accept a two-year degree with experience. A background with a wide variety of standard applications, systems and technologies is very important if you want to become a software test engineer.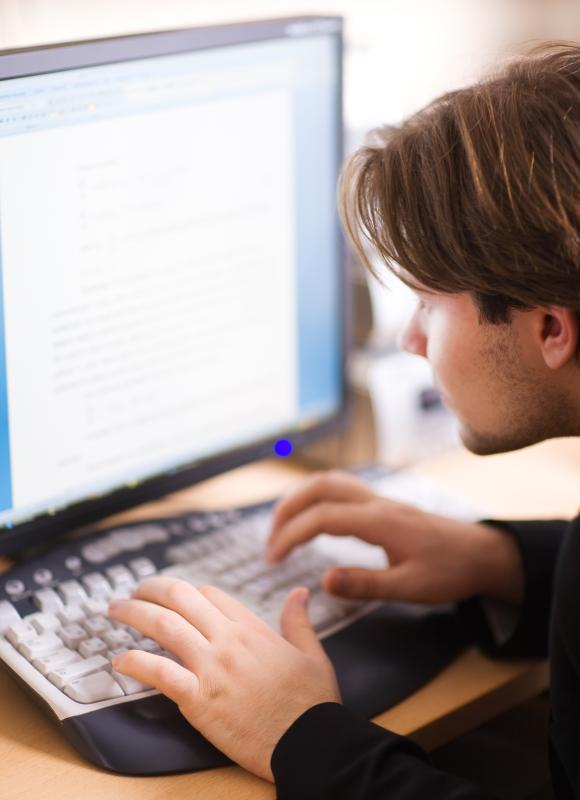 It is a good idea to immerse yourself in the world of computers as early as possible if you want to become a software test engineer. To gain a wide range of computer experience, take the computer classes offered at your high school, and join your school's computer club if there is one. Attend summer computer camps. Also, take advanced math courses at the high school level, which not only will help you develop the problem-solving and analytical skills that you'll need in this career, they also will prepare you for the large amount of math that is required when you study computer sciences or software engineering in college.
Focus on language arts classes as well. Software test engineers must communicate clearly to both non-technical and technical audiences, so being a good communicator will help you become a software test engineer. Having strong writing skills to produce technical reports and other documentation also is important.
When you are considering schools where you might pursue a degree program, be sure to consider what type of internship opportunities are offered at the school. An internship will allow you to apply what you have learned in your degree program and will provide experience in the software test engineering field. It also can open doors to jobs in the industry. Courses you will take in a degree program probably will include software development using different languages and applications, which is important for a software test engineer to know in order to fully understand the coding and debugging process.
In some organizations, software testers reside in a software engineering group or in a separate software test group. In other organizations, they are part of the software quality assurance organization. There is some debate in software testing circles over where this function belongs, but it is helpful to take some courses related to software quality assurance to understand this process and its requirements.
After you complete school and have gained an entry-level position as a software test engineer, you might want to consider certification in the field. Being certified tests your knowledge and expertise and can help you advance and make you more marketable to employers. Certifying organizations include the International Institute for Software Testing, Quality Assurance Institute and the American Society for Quality. Other important skills to become a software test engineering include decision-making ability and analytical and observational skills.