How Do I Become a Server Administrator?
To become a server administrator, a combination of formal and informal education as well as specialized experience is necessary. A bachelor's degree in information systems technology or computer science is a good starting point. Many individuals who eventually become server administrators tend to acquire their knowledge through self-directed learning. Certification programs are available for specific server types; however, direct experience is typically needed as well.
Like many career fields, there isn't necessarily one way to become a server administrator. Some candidates hold an associate's degree in a related field, but have gained valuable experience in the computer industry. They may have started out in entry-level positions that mainly dealt with network troubleshooting or software technical support. Others complete a four year degree program in computer information systems, while a select few even go on to obtain graduate degrees in the subject matter.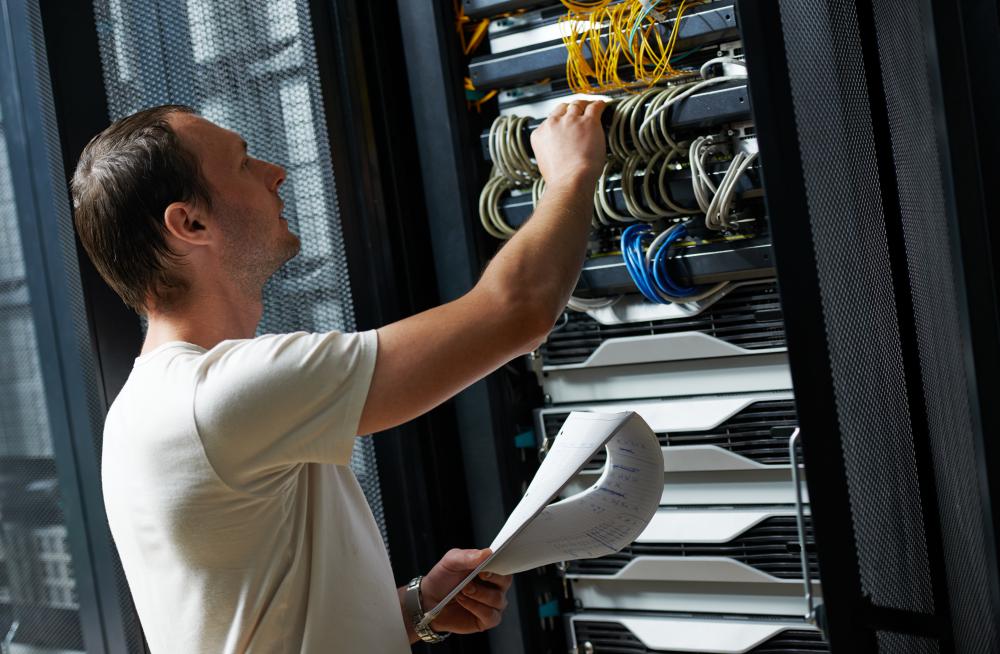 Besides a formal degree, there are numerous certification programs that provide specialized education for specific types of servers. Certification is one of the steps that many take in order to get a job as a server administrator. It demonstrates a certain level of expertise and specialization that can help set an individual apart from other candidates for the job. Some individuals complete their certification programs while working in a lower level position with a company in the computer industry. Once they've obtained certification, they use their new qualifications to apply for server administrator positions within the company they currently work for.
Some of the skills that are required to become a server administrator include the ability to troubleshoot and diagnose software problems. Since servers are essentially software programs that control and manage hardware within a network, candidates should be able to examine software application errors and determine potential resolutions. Positions that specifically deal with network troubleshooting, even if they are customer support technician roles, offer preparation towards becoming a server administrator.
To become a server administrator, candidates often tend to gravitate towards one type of server platform. Once they've decided what type of hardware and software platform they would like to specialize in, candidates can focus their education and experience accordingly. In addition to a specific platform, candidates may also focus on a particular area of networking, such as local area networks or wide area networks. Since specialized experience tends to be slightly more important than education for gaining employment as a server administrator, it is important for candidates to focus their efforts early.