How do I Become a Radiology Specialist?
Radiologists are physicians who specialize in analyzing images of the human body. For example, a radiologist's work entails looking at X-radiation images (X-rays) or magnetic resonance imaging (MRI) scans to diagnose disease in the human body. To become a radiology specialist, you generally will need a college degree, a medical degree, and several years of post-medical school training.
If you want to become a radiology specialist, it is necessary to get a college degree. You need not necessarily major in one of the sciences such as chemistry or biology; however, there are specific courses that you should take. For instance, it is typically necessary to take college courses such as chemistry, biology, physics, or calculus in order to meet medical school application requirements.
Also, it can be helpful to get good grades in college if you want to become a radiology specialist. Application to medical school is very competitive. Thus, having a high grade point average (GPA) in college is something that can distinguish you from the competition and help you get accepted to medical school. Another thing to keep in mind is that getting experience in a medical setting during college can also be important. For instance, doing volunteer work in a hospital or medical office could be helpful to your medical school application efforts.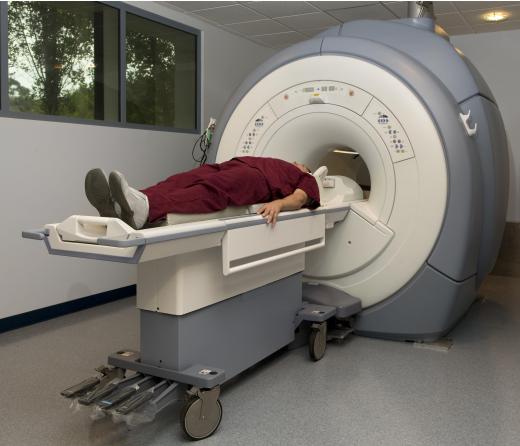 Doing well on the Medical College Admission Test (MCAT) is another important factor if you want to apply to medical school. The MCAT is a multiple-choice exam which assesses skills in science, writing, critical thinking, and problem solving. MCAT scores are an important part of your application because your MCAT scores give medical schools a sense of how you are likely to perform as a medical student.
Individuals who want to become a radiology specialist are typically in the top ten percent of the medical school class. Thus, if you want to become a radiology specialist, it is important for you to get excellent grades during the four years of medical school. High grades demonstrate that you have academic stamina and are knowledgeable about medical procedure. Having excellent knowledge of medical procedure will distinguish you from the competition and that makes it more likely that you will be accepted for radiologist residency training after medical school.
After medical school, there are five years of residency training. The first year of residency includes observation and training in surgery and general medicine. After that, there are four years of residency which specifically focus on diagnostic radiology. In addition to observing, learning, and practicing radiology skills under supervision during the residency, students must also take exams to become a board certified radiologist specialist. Also, following the residency years, there is typically a radiology fellowship program that is one to two years in duration.
Completion of all of the necessary education, exams, and licensure means that you will become a radiology specialist. As a licensed radiology specialist, you will be eligible to work as a physician in a medical group, at a hospital, or for the government. In some cases, radiologists can even work at home as teleradiologists who read and analyze X-rays or images on their computer at home.


An X-ray of a hand.

By: Leah-Anne Thompson

A radiology specialist reviews X-rays.

By: Marcin Sadlowski

An MRI scan of the brain.

By: James Steidl

Radiology specialists are responsible for analyzing MRI scans to diagnose diseases.

By: EPSTOCK

A radiology specialist may be trained to interpret some scans in real time.

By: Tyler Olson

Radiology specialists need a college degree, medical degree and several years of post-medical-school training.