How do I Become a Project Engineer?
A project engineer is an individual who works in the engineering or construction industry. He or she may design and engineer buildings, bridges, roadways and other structures. Those employed in the construction industry generally perform project management duties rather than design work. To become a project engineer in either the engineering or construction industries, you'll need to meet minimum requirements in education, experience, and skills.
Before you can become a project engineer, it helps to understand the different jobs that are available in this field. Mechanical project engineers design heating, ventilation, and air conditioning (HVAC)systems for buildings. They may also design cars, tools, industrial equipment, and machinery. Electrical project engineers design power and lighting systems for buildings, and also work in manufacturing or the automotive field. Structural project engineers design framing systems for buildings, bridges, and other large structures. Civil project engineers may perform earthwork design, layout roads, or find employment in construction management.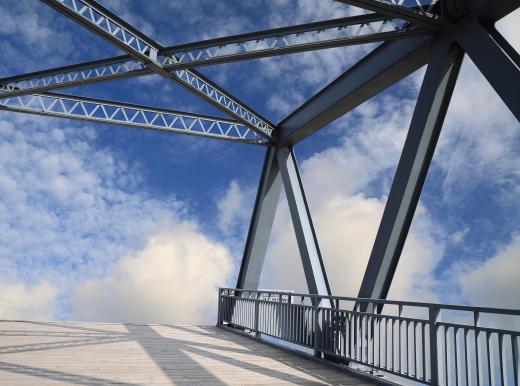 Many colleges and universities offer programs aimed at those looking to get a job as a project engineer. Students can focus on a particular discipline or combine multiple engineering fields into a single degree program. In most countries, one must obtain at least an undergraduate degree to find employment as a project engineer. In the US and Europe, many engineering programs are five years in duration, and combine an undergraduate and graduate level degree into a single program.
Those who wish to become a project engineer should consider pursuing professional licensing, as this can often help increase job opportunities. In the US, a professional engineering license is granted to individuals with a Bachelor of Science degree in engineering who have successfully passed an examination given by the National Council of Examiners for Engineering and Surveying (NCEES). Those who complete these requirements successfully are permitted to use the title Professional Engineer (PE), and have the power to stamp and approve drawings for submission to permitting agencies. In much of Europe, this credential is known as a Chartered Engineer, and is governed by the Europe Engineering Council.
To become a project engineer, look for opportunities with engineering firms, general contractors, and construction management agencies. Many of these companies offer internships for college students looking to gain experience in the industry. Others may start new project engineering candidates as draftsmen or assistant project managers to help them learn more about engineering and company procedures. Some project engineers may also find positions with municipal and government organizations.


By: ndoeljindoel

A project engineer is responsible for coordinating engineering projects.

By: Olga Galushko

Learning how to interpret blueprints is an important skill when becoming a project engineer.

By: Aania

Structural project engineers may design framing systems for bridges.

By: AndG

A project engineer may design an air conditioning system for a commercial building.