How do I Become a Pipelayer?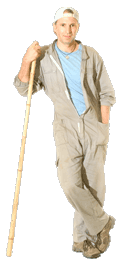 There are four key items that are necessary to become a pipelayer: formal training, physical fitness, blueprint-reading skills and manual dexterity. A pipelayer can find employment opportunities in a construction company or in a plumbing company or as a pipelaying course instructor. The most important skill required for this career is manual dexterity. The ability to move easily while carrying pipes and related equipment is essential for success in this role.
There are a range of formal training programs available to anyone who wants to become a pipelayer. Look at the course syllabus provide by the local community or career colleges. The programs to become a pipelayer usually last three to six months for a full-time student or six to nine months for a part-time student. Many schools offer bursaries or loans to help students with the financial costs of these programs. Take the time to speak with a financial aid counselor to find out about the options available to you.
When selecting a school, look for one that offers co-operative job placement or a job shadowing program. The opportunity to work in the field increases confidence, academic performance and overall job readiness. Make sure to perform at your very best, so that the job placement supervisor can provide a job reference or potential employment upon graduation.
Physical fitness is an important part of the job and usually is a requirement for anyone who wants to become a pipelayer. Upper-body strength and flexibility is very important because of the nature of this job. Take the time to build your physical fitness and stamina through a fitness program, because this will reduce the risk of injury.
Blueprint reading is an essential skill for anyone who wants to become a pipelayer. These diagrams provide a wealth of information regarding the placement of the pipes as well as the location of electrical power lines and other utilities. Working in the construction trade, a pipelayer might need to discuss potential changes to the blueprints with the project manager, architect or other tradespeople. The ability to read and understand the blueprints quickly is a very important skill.
During the training program to become a pipelayer, you will learn specific skills that will help you develop the fine motor control necessary in this career. Manual dexterity includes the ability to work with pipes and tools that can range in size from very small to quite large. This type of skill is developed through practice, dedication and physical effort. Take the time to develop these skills through leisure activities, such as model building or playing a musical instrument.


Worker