How do I Become a Front Desk Receptionist?
Basic office skills, including computer experience, and at least a high school education usually are necessary to become a front desk receptionist. People in the entry-level position of front desk receptionist greet visitors to companies and organizations and often are the first representatives of the company who visitors encounter. Having a professional appearance and professional manner is important. As a front desk receptionist, you might also be asked to answer telephone calls or handle a switchboard. A clear phone voice and experience or aptitude as a switchboard operator is helpful.
Front desk receptionists are often required by their employers to handle additional duties, such as data entry, sorting mail and performing Internet searches, so the ability to multitask is a valuable quality to have. Many companies place high priority on office workers with strong computer and software skills. Knowing a variety of commonly used software will be very helpful in finding employment. Software classes are available through local colleges or computer schools, online and elsewhere.
Being able to use office equipment such as faxes, photo copiers and other electronic devices is important too. Completing training or having your office skills certified through an organization such as the International Association of Administrative Professionals also can place you above the pack, especially in a competitive job market. Higher-level training might also help you on the road to advancement in your career.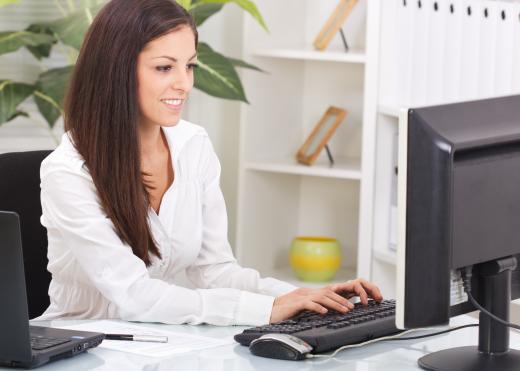 A friendly personality, typing proficiency and coordination and organizational skills are good for front desk receptionists to have. Good spelling, punctuation and grammar skills are important to take messages and perform other written duties. Another characteristic valuable in a front desk receptionist is having a degree of polite assertiveness to better enable screening and monitoring of visitors. In general, having well-rounded clerical and office skills and strong communications skills will help you to become a front desk receptionist.
When preparing to hunt for a job as a front desk receptionist, prepare a résumé that is free of typos and grammatical errors. For each job you apply to, include a cover letter that highlights the skills and experience most important to the particular company and position. To help you in your job search, contact job agencies that specialize in placing clerical and administrative workers.
Also, telling everyone you know about the kind of job you are looking for can help you become a front desk receptionist. You never know what connections your friends, family members and neighbors might have. Review newspaper job advertisements, online job boards and attend job fairs. Make a list of companies in your area that you would like to work for, and target those organizations with a well-written cover letter and résumé. Being proactive in your job search can help you to become a front desk receptionist.
AS FEATURED ON:
AS FEATURED ON:

By: David Gilder

A hotel front desk receptionist checks in guests.

By: V&P Photo Studio

Front desk receptionists have to be good at typing.

By: Marcel Mooij

Receptionists need to have good communication skills.

By: WavebreakMediaMicro

Receptionists often are required to multitask while performing their job.

By: Marco Wydmuch

A front desk receptionist is responsible for greeting visitors.

By: contrastwerkstatt

A front desk receptionist may be responsible for greeting clients and escorting them to the offices of various executives.